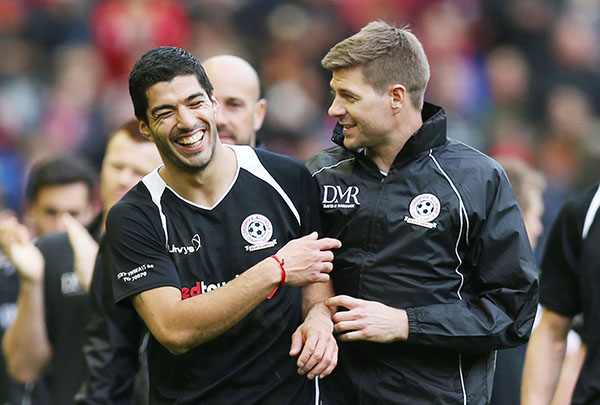 Luis Suarez and Steven Gerrard talk at the end of an All-Star charity match at the Anfield Stadium in Liverpool, March 29, 2015. [Photo/Agencies]
While the rest of the soccer world was being dazzled by the hectic schedules of international friendlies and Euro 2016 qualifiers, Liverpool had business of its own.
The city was saying a proper goodbye to outgoing legend Steven Gerrard, the only man capable of bringing together some of the big-name players in Premier League history to create a day of nostalgia and veneration.
Anfield, packed with red shirts, banners and scarves, welcomed home former favorites including Xabi Alonso, Pepe Reina, Luis Suarez and Fernando Torres, who were split into two sides led by Gerrard and his former deputy Jamie Carragher in an all-star charity match on Sunday.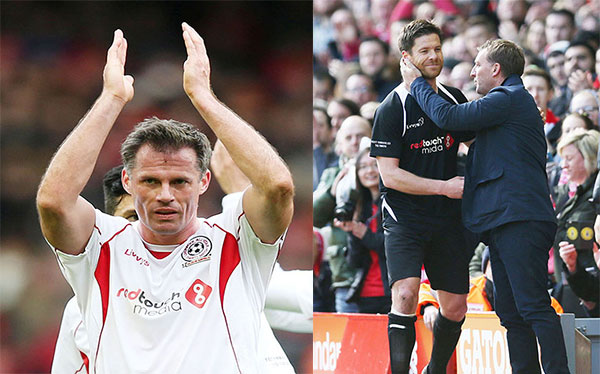 Left: Jamie Carragher applauds the fans at the end of an All-Star charity match at the Anfield Stadium in Liverpool, March 29, 2015. [Photo/Agencies]
Right: Liverpool manager Brendan Rodgers and Xabi Alonso shake hands during an All-Star charity match at the Anfield Stadium in Liverpool, March 29, 2015. [Photo/Agencies]
The reunion, also featuring non-Liverpool greats Thierry Henry, Didier Drogba and John Terry, meant more as a farewell match in tribute to the current Liverpool captain, set to leave England for US club LA Galaxy this summer.
Gerrard enjoyed his moment. Fans gave a thunderous standing oviation to their leading man when he was substituted in the 80th minute after scoring two penalties to secure a 2-2 draw with Carragher's team.
Mario Balotteli and Drogba scored for Carragher's side.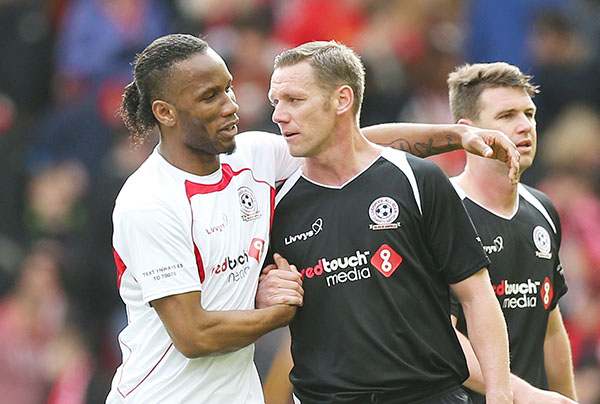 Chelsea's Didier Drogba talks with Kevin Nolan during an All-Star charity match at the Anfield Stadium in Liverpool, March 29, 2015. [Photo/Agencies]
Xabi Alonso received a similar warm reception after 30 minutes in the first half, but fans wanted more.
The crowd was fired up again when two ex-Anfield darlings, Barcelona's Suarez and Atletico Madrid's Torres, walked from the players' corridor and finally played together in the second half.
Dirk Kuyt was also there although he could only sit and watch due to injury.
For fans in the Kop, the gathering rekindled some of their finest memories, but without their Stevie none of this would have happened.
He is so respected that both his former teammates and enemies were willing to add to current club duties to be part of a memorable day at Anfield, where Gerrard had spent 17 years since his first-team debut in 1998.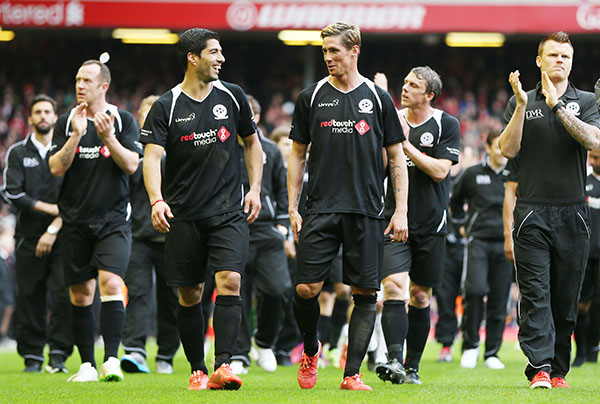 Luis Suarez and Fernando Torres talk at the end of an All-Star charity match at the Anfield Stadium in Liverpool, March 29, 2015. [Photo/Agencies]
Despite the Liverpool great's many talismanic moments that have made him almost a saint on Merseyside, his glorious career – 183 club goals in 704 appearances – has been tainted by gaffes that cost him and the club trophies.
Among them, his infamous slip last season after receiving a pass from Mammadou Sakho which gave then Chelsea striker Demba Ba the chance to open the scoring in a crucial match where Liverpool only needed a draw to keep the Merseysiders in the race to win Gerrard's first league title. Chelsea triumphed 2-0, leaving the Liverpool talisman in lifetime remorse.
The reckless Gerrard's latest piece of red-mist madness came as he was sent off a mere 38 seconds after being introduced as a substitute in Liverpool's 2-1 defeat to Manchester United last week, blowing his final chance to take down the Merseysiders' all-time archrival.
Liverpool's Steven Gerrard is shown a red card by referee Martin Atkinson during their Premier League match against Manchester United at the Anfield Stadium in Liverpool in this March 22, 2015 file photo. Manchester United won 2-1. [Photo/Agencies]
This was typical Gerrard. He can be either saboteur or savior when counted on by his team. He was so unpredictable that seeing him on the pitch always meant there was a risk but one which all Kop believers are willing to take.
It is worth it to them because although their beloved skipper may slip, stamp and backpass to the detriment of his own side, he's fighting for his team at full throttle, whether in a training session, league match or Champions League final.
Gerrard makes it clear in his autobiography: "I couldn't help it. It's the way I train, the way I play. Full on. No pulling out. No messing." So resolute that he led Liverpool's impressive comeback from a three-goal deficit to beat the more-favored AC Milan and win the Champions League final after a penalty shootout in Istanbul in 2005.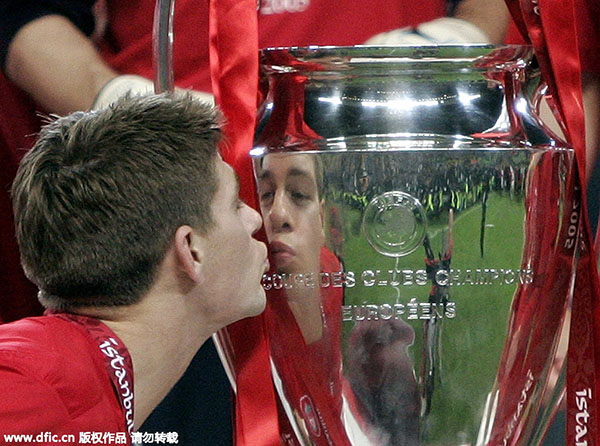 Liverpool's captain Steven Gerrard kisses the trophy after Liverpool's victory in the the UEFA Champions League Final between AC Milan and Liverpool at the Ataturk Olympic Stadium in Istanbul, Turkey, in this May 25, 2005 file photo. [Photo/IC]
The triumph, hailed as the "Miracle of Istanbul", culminated in Gerrard kissing the coveted trophy.
Could the clock be turned back on last week's faceoff with United, fans would still pin their hopes on their No 8, who is always there, ready to answer the club's call and give his all.
The Kop has paid back its heroes, both former and incumbent, with unconditional love and support. Gerrard is set to go, but they believe that somewhere out there another potential legend must be rising. One who will inherit the same devotion to the red shirt. When his time is up they will open their arms and make him feel special, just as they have with Robbie Fowler, Kenny Dalglish and Steven Gerrard.