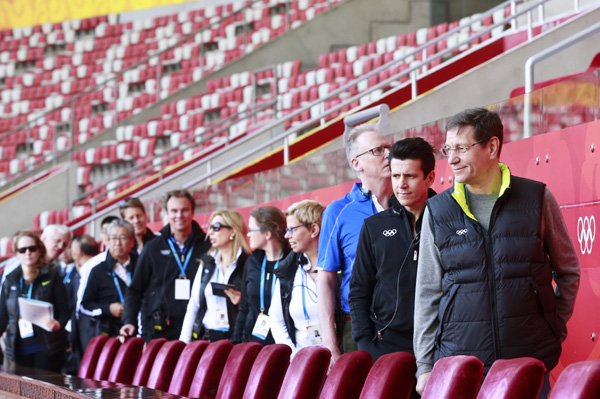 International Evaluation Commission Chairman Alexander Zhukov (right) and colleagues inspect facilities at National Stadium in Beijing on March 24, 2015. [Photo by Feng Yongbin/China Daily]
The International Olympic Committee's Evaluation Commission said on Saturday that its five-day inspection visit to Beijing has assured members that the Chinese capital is capable of hosting a successful Winter Olympics in 2022.
Chaired by Russian IOC member Alexander Zhukov, the Evaluation Commission concluded its on-site assessment trip to Beijing and its co-host city Zhangjiakou, Hebei province, on Saturday by holding a wrap-up press conference in Beijing.
"The last five days have been incredibly informative and productive. We evaluated the Beijing bid in great detail by focusing on 15 themes, including the "Athletes' Experience" – a theme that was added by Olympic Agenda 2020," Zhukov said in his opening remarks.
"And our visit has confirmed that Beijing is capable of hosting a successful Olympic Winter Games in 2022,"he added.
During inspection tours in downtown Beijing, northwest Beijing's Yanqing county and Zhangjiakou, the commission's delegates asked approximately 150 questions concerning various issues, including venue layout and legacy. The Beijing bid committee addressed them all in a timely manner, Zhukov said.
In addition to venue inspections, the Beijing bid committee also presented detailed plans of how its bid of hosting an athlete-centered, sustainable and economical games will align with the Olympic Agenda 2020 recommendations that were approved by the IOC in December as a new guideline for future Olympics.
Zhukov said he and both his colleagues were impressed by the coherence of Beijing's bid concept to Agenda 2020.
"My colleagues and I were pleased to see that the Beijing team has incorporated the spirit and goals of Olympic Agenda 2020 in their proposed plan. It is clear that the 2022 bid has strong government and public support.
"Beijing offers a clear concept for the Games, with good use of existing venues. It was very pleasant to see that so many venues from the 2008 Games are providing legacy benefits, and that they have had a significant role in planning for 2022.
"We also saw the legacy of the 2008 Games in the level of expertise and knowledge on the Beijing 2022 bid team," he said.