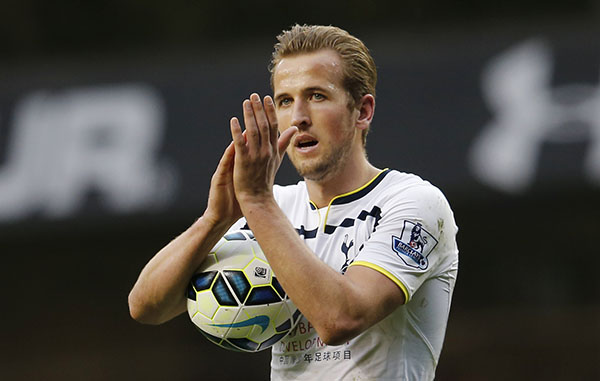 Tottenham's Harry Kane walks off with the match ball at the end of their Premier League match against Leicester City in White Hart Lane, March 21, 2015. [Photo/Agencies]
LONDON - The number of foreign players in English Premier League squads is set to be reduced under new rules designed to prevent the development of homegrown youngsters being stifled by imports.
The English Football Association announced Monday that the non-European players will find it harder to gain British work permits from May when more stringent eligibility requirements come into force. The FA is also trying to gain Premier League approval for new limits on foreign players in squads.
"We believe too many talented English kids are currently not getting through the system and being lost," FA chairman Greg Dyke said.
The new rules would have prevented Arsenal from signing Spanish midfielder Cesc Fabregas from Arsenal as a 16-year-old and Stoke from bringing in American duo Geoff Cameron and Brek Shea.
Dyke is acting now before clubs experience a cash bonanza from the new Premier League television deals from the 2016-17 season, with domestic rights alone soaring 70 percent to around $8 billion over three years.
"We are concerned that there is a downside - all of the historical evidence shows that every time the television income goes up, so do the number of foreign players playing in our game," Dyke said. "The unparalleled success of the Premier League, and the pressure this has put on managers, means that time after time clubs turn to experienced overseas players rather than giving home-grown youth a chance."
The FA has been working on the new rules since 2013, but their necessity was highlighted by England's group-stage exit at the 2014 World Cup. Dyke believes Harry Kane's sudden rise - from fringe player to Tottenham's key asset - helped him secure the work permit changes.
"It must have done mustn't it, suddenly an English kid who was out on loan at four different places who was touch and go to get a game in the first team is suddenly the top scorer in English football," Dyke said. "It's great news. How many more Harry Kanes are there out there, who just can't get a game?"
The 21-year-old Kane, who was called up by England for the first time last week, only broke into the Tottenham first team after the ineffectiveness of Emmanuel Adebayor of Togo and Roberto Soldado of Spain became clear. The 19 league goals from Kane, an academy graduate, are only matched by Chelsea's $48 million Spain forward Diego Costa.
Dyke wants Premier League approval for the number of non-homegrown players in squads to be cut from 17 to 13 by 2020, and for at least two homegrown players to have been with the club for three years before their 18th birthday. A player is currently defined as homegrown if they have been affiliated with an English or Welsh club for three years before their 21st birthday.
"We will go round and try to convince them," Dyke said. "We will ask: Are you sure you haven't got a Harry Kane playing in your youth side?"
There are English kids in Premier League clubs' academies who just need first-team opportunities to prove their value to first teams, according to Dyke.
Dyke said he received Home Office department approval on Friday for a "fundamental reform of the non-EU work visa processes which will come into effect for next season."
Currently non-European players desiring a British work permit must have featured in at least 75 percent of competitive international games in the previous two years for a top-70 ranked team. Now only players from the top 50 FIFA nations will be considered, with a sliding scale of appearances required - from 30 percent of games over two years for the 1-10 teams to 75 percent for 31-50 teams.
FA research found that a third of the work permits applications for non-European players approved between 2009 and 2013 - 42 - would have been rejected under the new rules.
"The new system will make it far easier for us to identify and attract top quality players that truly are at the elite level," Dyke said. "It will make it far tougher for those who don't meet the quality standard to get to play in Britain."
From next season Premier League teams could also be allowed to field their under 21s sides in the Football League Trophy for third and fourth tier clubs if an agreement is reached.