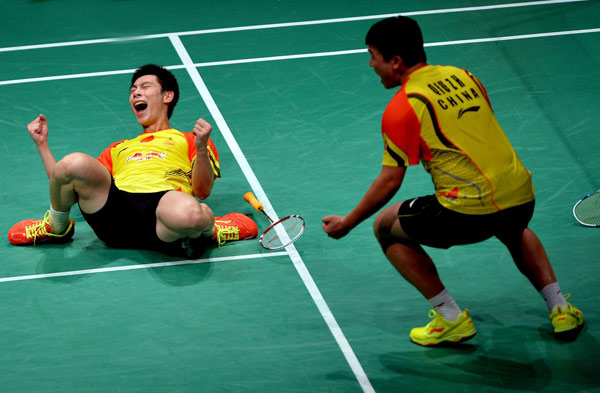 China's Liu Xiaolong (L) with partner Qiu Zihan celebrate after winning the men's doubles match at the finals of the Sudirman Cup World Team Badminton Championships in Kuala Lumpur May 26, 2013. China won the Sudirman Cup 2013. [Photo/Xinhua]
According to Lu Hanbiao, deputy secretary-general of the Dongguan municipal government and executive secretary-general of the tournament's preparatory committee, all the preparations are on track and the facility for the game will be finished before the test competition begins in April.
"As a major manufacturing hub in China, Dongguan has done much to make the city successful and turn itself into a city of sports," added Yu Lijun, vice-mayor of Dongguan and executive deputy director of the event's preparatory committee.
To that end, she said, the city has sponsored the weightlifting game of the 16th Asian Games, the Yao Foundation Charity Game in the name of the retired Chinese NBA star Yao Ming and China Badminton Super League Tournament among many others in the past few years.
The Sudirman Cup, one of the most prestigious titles for badminton, is held every two years. It is also the only BWF world event for men and women competing together in national teams.
The event made its debut in 1989 and three editions of the event have been held in China, in Beijing, Guangzhou in Guangdong province, and Qingdao in East China's Shandong province.