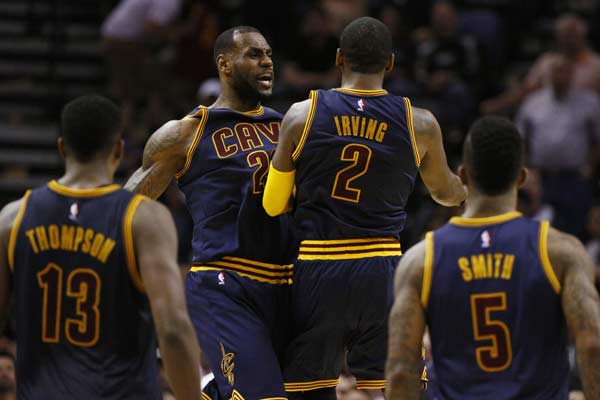 Cleveland Cavaliers forward LeBron James (23) celebrates with guard Kyrie Irving (2) after hitting a three point shot against the San Antonio Spurs during overtime at AT&T Center, Mar 12, 2015. [Photo/Agencies]
SAN ANTONIO - Kyrie Irving had a career-high 57 points as the Cleveland Cavaliers rallied for a 128-125 overtime victory over the San Antonio Spurs in the NBA on Thursday.
Irving had the most points in the NBA this season, topping his 55-point game against Portland on Jan. 28. He scored nine points in the final minute of regulation to force overtime.
The Cavs' star point guard made all seven of his 3-point attempts, was 20 of 32 from the field overall, and made 10 free throws without a miss.
Irving hit a 3-pointer in the face of heavy defense from Danny Green to pull Cleveland to 110-107 with 31 seconds remaining in regulation. After the Spurs' Kawhi Leonard missed two free throws with 4.3 seconds left, Irving made another 3 - this time over Leonard - to tie it at 110.
He then scored 11 points in overtime, including a crossover, fade-away 3-pointer against Boris Diaw with 1:20 remaining to give Cleveland a 122-118 lead.
LeBron James added 31 points in his first game in San Antonio since being blown out by the Spurs in the NBA Finals in his last games with the Miami Heat.
Tony Parker had 31 points for San Antonio and Leonard added 24 points.
Elsewhere in the league, Rudy Gobert had 19 points, 22 rebounds and four blocks as Utah beat Houston 109-91 for its ninth victory in 11 games.