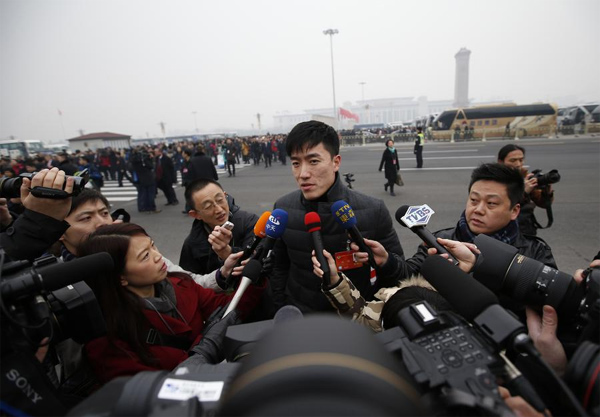 Chinese hurdler Liu Xiang, a delegate of the Chinese People's Political Consultative Conference (CPPCC), is surrounded by journalists as he arrives at the Great Hall of the People to attend the opening of CPPCC in Beijing, in this March 3, 2014 file photo. [Photo/Agencies]
China's Olympic champion hurdler Liu Xiang is still training in the hope of competing at the 2015 IAAF World Championships despite the long absence from the track, said athletics administration official.
Liu, who underwent a surgery to repair a torn right Achilles tendon in August 2012 after suffering an injury at the London Olympics, has resumed specialized training for hurdling technique and strength, expecting to be able to recover in time to compete at the IAAF Worlds, which will be held in Beijing in August, said Wang Dawei, deputy director of the State Administrative Center of Track and Field.
"He is still training but his current result (in trial races) hasn't been up to the mark to meet the requirement of the world championships according to IAAF rules," Wang said at the 2014 CCTV Sports Personality of the Year Award ceremony on Sunday in Beijing.
Liu, who won the men's 110-meter hurdle gold medal at 2004 Athens Olympics, withdrew from Olympic finals twice, once at the 2008 Beijing and then at the 2012 London Games, due to injuries and hasn't returned to the track for two and a half years.
The 31-year-old said on his micro blog account in September that he had married his girlfriend Ge Tian, who is an actress.
In China, athletes usually focus on personal matters after retiring from their hard-driving athletic careers, and the news of Liu's marriage sparked heated speculations that the Shanghai native was about to retire.
However, Liu expressed his desire of "racing at the world championships at home" when he attended the Chinese People's Political Consultative Conference as a member in March 2014.
Wang's remarks further implied the possibility of Liu's recovery, but neither Liu nor his coach Sun Haiping has commented recently on the issue.