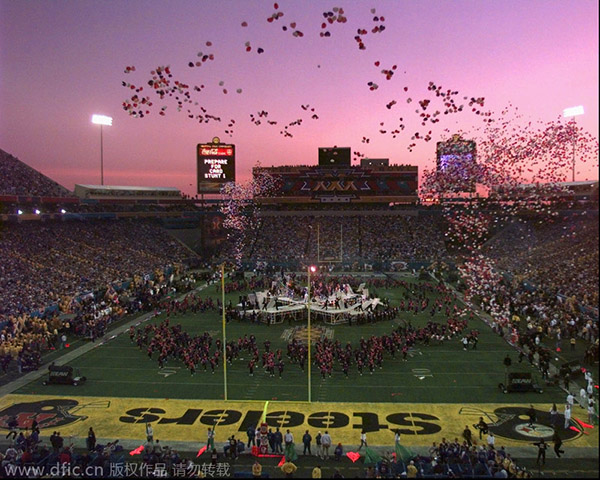 Balloons are released over Sun Devil Stadium during the halftime festivities at the Dallas Cowboys vs. the Pittsburgh Steelers football game at Super Bowl XXX in Tempe, Ariz., in this Jan. 28, 1996 file photo. [Photo/IC]
New England has the Boston Tea Party and cream pie, Seattle has Starbucks and marijuana but only one will be crowned Super Bowl champions after an East Coast versus West Coast clash of teams as different as the cities they represent.
It will be Beantown versus the Emerald City in the Arizona desert on Feb. 1 where the resilient Seattle Seahawks will try to defend their Super Bowl crown against a New England Patriots team making their sixth trip to the title game in 13 seasons.
Although New England represents six different states the heartbeat of the team is still Boston. The team was originally called the Boston Patriots and only changed their name when they moved to Foxborough in 1971.
Much more than roughly 2,500 miles and three time zones separates the two Super Bowl combatants.
Seattle, home of Microsoft and Amazon.com, has given the world Starbucks, grunge rock and Jimi Hendrix.
Boston is the home of Harvard University, Cheers, the Kennedys, Paul Revere and the Boston Pops.
While Seattleites embrace recycling and environmental causes, Bostonians love the big event, staging the world's most famous marathon annually while the city was recently selected as the U.S. candidate in a bid to host 2024 Summer Olympics.
Seahawks fans, famously known as the '12th man,' are among the National Football League's most boisterous and have been known to get a little high with Washington among the first states to legalise recreational pot in 2012.
And if the Seahawks lose the championship game, fans can always drown their sorrows with a beer from one of 100 locally crafted brews.
"Whatever it is, it's something in the water here," said Seahawks head coach Pete Carroll. "I think (our fans are) the loudest and we'll put them up against anybody and that's because they care so much."
In part, the Seahawks' success means so much to Seattle because the city has had precious little to celebrate on the sporting field.
Major League Baseball's Seattle Mariners have yet to reach a World Series since their inception in 1997 while the SuperSonics captured the National Basketball Association title in 1979 but fled Seattle in 2008 to become the Oklahoma City Thunder.
Boston on the other hand has spent a good part of the past 15 years planning championship parades.
The Patriots have hoisted the Vince Lombardi Trophy three times, while National Hockey League's Bruins brought the Stanley Cup back to Boston in 2011 and Red Sox fans, after an 86-year title drought, celebrated World Series wins in 2004, 2007 and 2013.