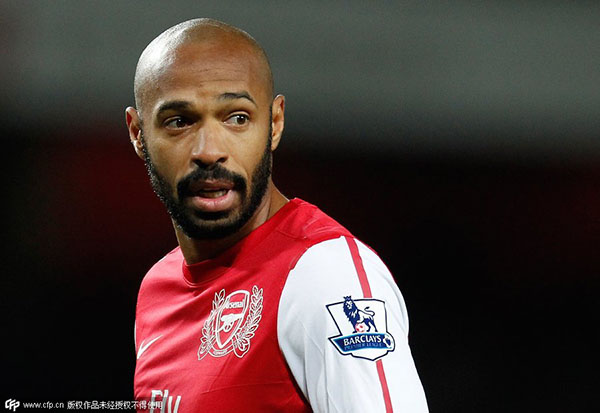 This file picture taken on January 9, 2012 shows Arsenal's French player Thierry Henry (on loan from New York Red Bulls) gesturing during the third-round FA Cup match between Arsenal and Leeds United at The Emirates Stadium in London. French striker Thierry Henry said on December 16, 2014 he was retiring from professional football after two decades in the game and will become a TV analyst for Sky Sports in England. [Photo/CFP]
Many Chinese fans bade farewell to retired French soccer great Thierry Henry with mixed feelings.
People tend to regard the 37-year-old as purely an Arsenal legend despite the fact that the well-traveled forward also played for AS Monaco, Juventus, Barcelona and the New York Red Bulls. They have good reason to do so.
Henry was an unknown winger at Juventus, and may have remained as obscure as many other young professionals until Arsenal manager Arsene Wenger, his countryman with whom he later developed a father-son relationship, took him to Highbury in 1999.
Wenger switched him to a central role which proved tailor-made for the speedster who was to become one of the most feared strikers in Europe. The 228 goals he scored remain the club record and two Premier League trophies and membership of "The Invincibles" which he led through an unbeaten Premier League season in 2003-04, will long remain in the collective memory of the Arsenal faithful.
Following the announcement this week that Henry is to retire and become a Sky Sports soccer analyst, many fans poured out their emotions on the club's official Sina Weibo account, a popular microblogging service in China. They said the Frenchman was the reason they chose Arsenal as their lifelong team to support and woke at midnight - with Beijing eight hours ahead of London - to watch the North Londoners on TV.
For many Chinese, soccer together with staying up late to watch a match and letting their emotions get the better of them is a passion solely for their youth.
Gone now is not only their school-age idol, but also their young, carefree selves.
This probably makes it harder to say goodbye.