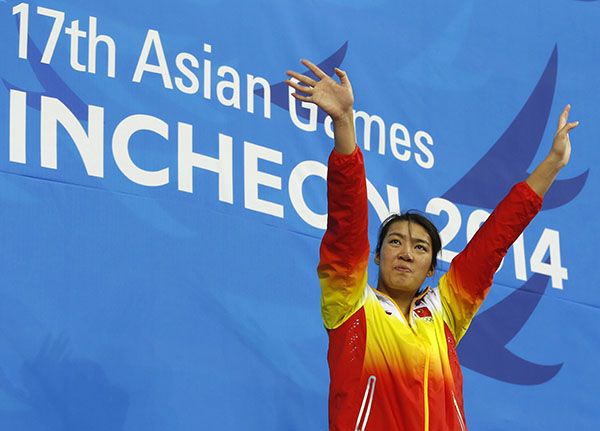 China's Shen Duo reacts after winning gold in the women's 100m freestyle final at the Munhak Park Tae-hwan Aquatics Center during the 17th Asian Games in Incheon September 22, 2014. [Photo/Agencies]
INCHEON, South Korea - The last time China won the Olympic gold medal in the women's 100 metres freestyle was at the 1996 Atlanta Olympics.
China did not win a single medal in swimming at the 2000 Olympics but have been slowly crawling their way back up the table. At the last Olympics in London, China won five golds but it has been almost two decades since a Chinese woman won the sport's blue riband event.
Shen Duo was not even alive when the Atlanta Olympics took place, born the following year. Now a teenager, she is suddenly emerging as China's best chance to end their drought.
Standing at 180cm (5ft 11in), she has all the physical attributes of a world class swimmer and is starting to make a big splash.
Last month, she won six gold medals at the Youth Olympics in her homeland. Her wins included the 100m freestyle, where she set a junior world record.
Now competing at her first senior meet, the Asian Games, she has two gold medals from the first two nights of the swimming competition.
She picked up her first in a relay on Sunday and her second on Monday, in the individual 100m event.
Tang Yi won the Asian title four years ago and then a bronze medal at the London Olympics. Tang finished runner-up to Chen on Monday and was impressed even if her junior team mate was not.
Shen's winning time of 54.37 seconds was nothing special and slower than what she recorded at the Youth Olympics but time is on her side and she should be at her peak when Rio rolls around.
"I am not that satisfied with today's result, but I did get the medal," she said. "I think there were too many events at the previous games so I have not fully recovered.
"I will do better next time."