Luxury retailer hopes the new store will continue its success story in China
Six years after Hermes, Europe's third-largest luxury goods group, broke ground on its fifth global Maison by renovating a heritage building on Huaihai Road in Shanghai, the store opened on Sept 12 amid pomp and pageantry.
A phalanx of security guards and hostesses in black attire welcomed VIPs outside the four-story H-shaped building as limousines cruised up. Inside, about a dozen members of the Hermes family attended the "christening".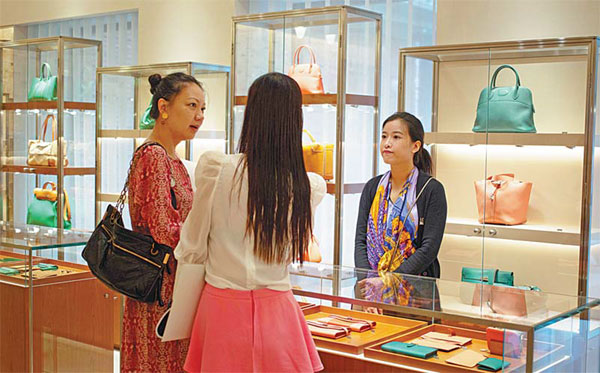 Inside the Hermes' fifth global Maison, situated in Shanghai. Photos by Gao Erqiang / China Daily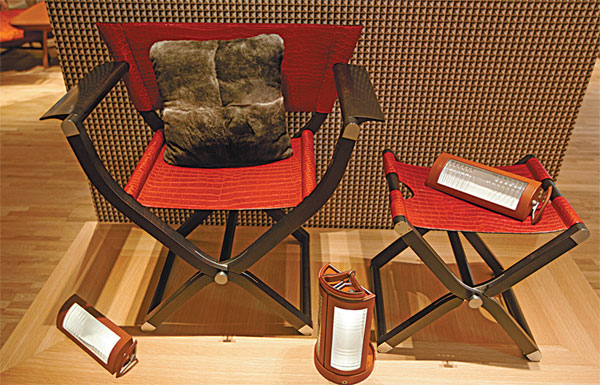 A pair of red Pippa chairs on show at the Maison are made from the skins of 50-year-old crocodiles.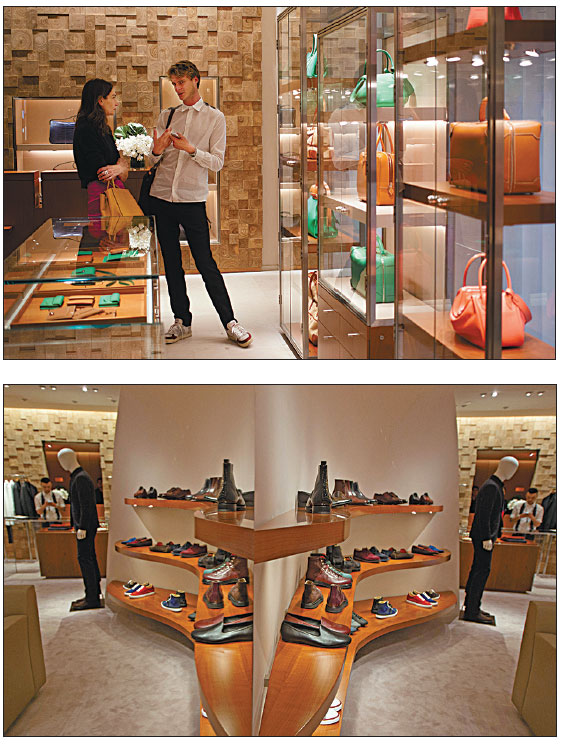 Top and above: The handbag and footwear sections of the Maison.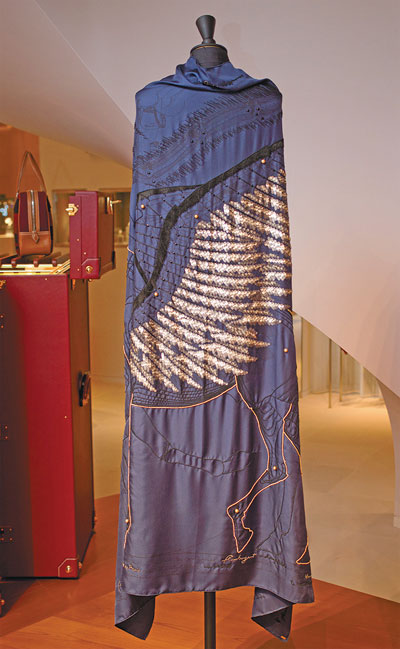 The handmade silk scarf, Pegase d'Or, features a print of the mythical winged horse.
The building, which was once a police precinct in the former French Concession, houses 1,174 square meters of sales and exhibition space.
"For us, it's very important that (the Maison) is an aesthetic statement. We believe this historic building is one of a kind," Hermes' CEO Axel Dumas, who took up his post on Jan 1, says.
"Usually a store is like a big box," he said. "But as you can see in our Maison, it's all a bit complicated, from the staircase to everything else."
"And we hope that by the presence of Hermes, it will also develop the environment," Dumas, a former banker and sixth-generation scion of the family-owned French luxury group, adds.
The store was designed by Denis Montel of RDAI and includes a generous range of limited-edition products. Hermes opened its first store in Beijing in 1997 and one in Shanghai in 2001.
Some pundits have questioned whether Hermes, which refuses to ramp up production of its popular Kelly or Birkin bags, will maintain its exclusivity or change its business model to exploit such a vast market.
Hermes hires 200 craftsmen a year and it takes up to five years for them to reach peak productivity, which creates obvious production constraints, Dumas says.
"The second thing we decided in China is that more important than having a certain number of stores is to have bigger stores where we can show all the range of our products," he adds.
"We have a very beautiful store in Hangzhou, for example. We're going to open a great store in Chengdu. And of course there is, for us, the pinnacle: Maison Shanghai."
Auspicious opening
The much-awaited opening of the latest Maison is either a masterstroke or a missed opportunity.

Auspiciously, given the brand's humble beginnings 177 years ago as maker of saddles and harnesses, the opening falls in the Chinese Year of the Horse. A Hermes firework-maker on horseback sits on the south side of the Maison's terracotta roof, and the brand's Chinese name "Ai-ma-shi" translates as "horse-loving gentleman".
Hermes is also gaining traction as trends converge in its logo-free favor: Chinese consumers of luxury goods are growing weary of the ubiquitous and flamboyant logos of brands such as Louis Vuitton, which for years have enjoyed prominence in Asia. Many brands are now making their logos more discreet.
But while Hermes was a trendsetter in New York's Madison Square Garden, Louis Vuitton, Cartier and Ermenegildo Zegna, as well as luxury department stores such as Lane Crawford, all opened stores earlier on Huaihai Road.
"Technically, we started our work here first, but they ended up finishing their one (before us)," Dumas says, referring to the LV showroom, which winks at its arch-nemesis through a haze of LED lights from across the street. "That's Asia."
LVMH, the group that owns LV, revealed in late 2010 that it had stealthily acquired a 17 percent stake in Hermes Int'l SCA, according to earlier reports. The holding later rose to 23 percent. Rumors of a planned takeover led Dumas to describe the move to the Financial Times as "the battle of our generation".
Now Hermes seems to won the "handbag war", at least for the time being. After losing a court battle in France, LVMH agreed earlier this month to give up most of its stake and not buy any more shares in its rival for the next five years.
The latest store differs from Hermes' other Maisons in Asia - one in Ginza, Tokyo and the other in Dosan Park, Seoul - in two respects: They are housed in modern buildings, while the China flagship is in a century-old red-brick structure it shares with Shang Xia, the local Chinese brand Hermes launched in 2010.
Shang Xia, which is run by a Chinese team, has not yet turned a profit. Dumas says he expects it to be more profitable than Hermes in China in the long run.
"Shang Xia needs to live itself," said Dumas. "We are not here to send the message that Shang Xia is supported by Hermes."
Hermes enjoyed sales turnover of 3.75 billion euros (29.76 billion yuan) last year distributed evenly between the US, Asia and Europe, but has seen its bottom line dip slightly this year, despite rising revenue.
"The record profitability was in 2013. We say that in 2014 it will be a little bit below this, because we did not increase the prices. This was a decision on the yuan," he says.
Reports provided by the company show that revenue climbed 17 percent in Asia, excluding Japan, in the first half of 2014 from the same period last year. The company did not provide specific figures for China.
Unlike many luxury brands and five-star hotels, Dumas said the house has not been affected by the anti-corruption campaign sweeping the country. He cited Chinese consumers' growing appreciation of elegance and higher craftsmanship, and the "very intimate" nature of Hermes products.
"A lot of people buy Hermes for themselves, and less for gifting, even in China. And that's why our growth has been maintained. On the numbers, we haven't been affected," he said.
The company's report shows that global revenue from sales of its watches dropped 7 percent in the first half, with a slump in China cited as a major factor.
(China Daily 09/13/2014 page15)