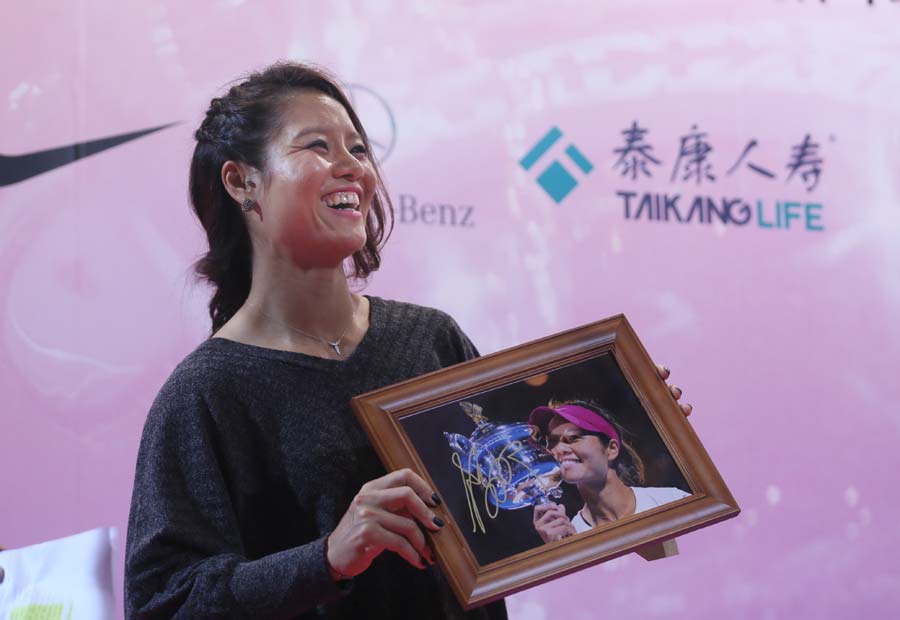 Li Na displays a gift at the launch of the new edition of her autobiography in Beijing, Feb 22, 2014. [Photo by Zou Hong / China Daily]
What they say
"Carlos really saved my marriage because the relationship between me and Jiang Shan could return to as simply being a couple after Carlos came. It's not because we no longer had feelings for each other as athlete and coach. We just feel more comfortable now as wife and husband."
— Li Na, reiterating how Rodriguez made life easier for her and her husband
"Experiencing the ups and downs after the French Open, I don't like those who just put icing on the cake. I do appreciate more those who deliver help in times of need but such people are getting fewer in real life."
— Li, speaking of the ceremonious welcome and extra 800,000 yuan ($130,160) bonus that her native Hubei provincial government offered after she returned from Australia
"Departing from the national team to manage your own way won't suit everyone. A lot of young players want to copy my path to fly alone outside the State-run system, but it won't work for everyone. You always have to pick your own way."
— Li, observing the trend in Chinese tennis for more and more juniors to go professional at a young age without training together at the State camp
"Li Na wins and brings a lot of people to our academy. But if you don't do your job correctly, people leave again. It's more important to keep the people. For sure, Li gave the academy a respect that we never imagined we could have."
— Carlos Rodriguez, speaking of Li's impact in encouraging more parents to send their children to his tennis school in Beijing