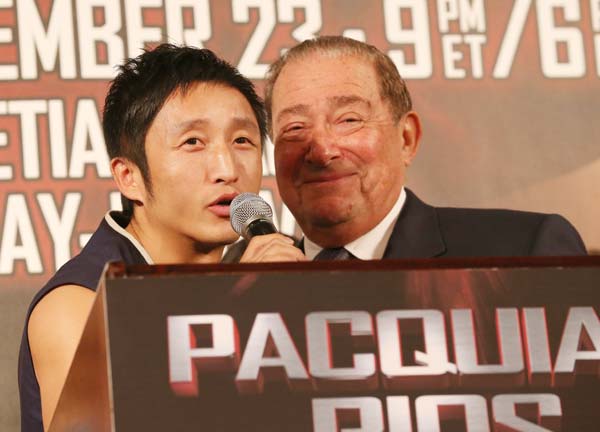 Zou Shiming addresses a media conference alongside Top Rank Boxing promoter Bob Arum in Los Angeles last month. Zou, China's two-time Olympic gold medalist, will try to improve his professional record to 3-0 on Nov 24 when he squares off with Mexico's unbeaten Juan Toscano in a six-round flyweight bout on the undercard of Manny Pacquiao versus Brandon Rio clash at the Venetian Resort & Casino in Macao. [Stephen Dunn/Getty Images/AFP]
Zou leads quartet of undefeated prospects in prelims for Pacquiao
The Nov 24 'Clash at Cotai' marks an historic anniversary for Chinese boxing, so it's fitting that four of the nation's best pro prospects will be showcased on the undercard of the WBO international welterweight title fight between Manny Pacquiao and Brandon Rios at the Venetian Resort & Casino in Macao.
A major milestone was achieved on Nov 24, 2012, when Xiong Zhaozhong became the first male boxer from China to win a world professional championship by capturing the WBC strawweight belt in his hometown of Kunming.
Exactly one year later, on what shapes up as one of the biggest pay-per-view events in boxing history, the country's next wave of fistic talent will be looking to keep a collective unbeaten streak intact in front of a massive global audience.
Two-time Olympic gold medalist Zou Shiming (2-0) leads the charge, stepping into his first six-rounder in a flyweight showdown against Mexico's Juan Toscano (4-0).
In a six-round super flyweight clash, Rex Tso of Hong Kong (7-0, 4 KOs) is squaring off with Susu Sithjadeang of Thailand (7-3, 2 KOs).
In the four-round super welterweight curtain-raiser, Macao's Kouk Kun Ng (1-0) faces Thailand's You-Jie Zeng (4-4, 4 KOs), while Ik Yang of Dalian (12-0, 8 KOs) takes on India's Hero Tito (7-3, 3 KOs) in an eight-round super lightweight bout.
The semi-main event will be a 12-round IBF featherweight title rematch between Russian champion Evgeny Gradovich (17-0, 8 KOs) and Australia's Billy Dib (36-2, 21 KOs), while the featured prelim will see Mexico's Andy Ruiz (20-0, 14 KOs) defend his WBO intercontinental heavyweight crown against Tor Hamer (21-2, 14 KOs) of the US.
"It's something great to do an event that pulls the world together, and we really believe that's what will happen on Nov 24 when the eyes of the world will be on Macao," Top Rank promoter Bob Arum said during a summer media blitz in Beijing.
"All over Asia, all over China, fans already knew about Manny Pacquiao, but Chinese boxing was getting lost in the shuffle. China was a place where the sport was banned for almost 30 years; neither amateur nor pro boxing was allowed. But now that's history.
"With the great success of Zou Shiming, the eyes of 1.3 billion Chinese are again focused on boxing. They are embracing another Asian star, as they have embraced Manny Pacquiao."
Boxing was banned in China after an amateur fighter died in the ring in Tianjin in 1953. It wasn't until the late '70s that the nation took up the sport, after Deng Xiaoping invited world heavyweight champion Muhammad Ali for a goodwill visit.
"Today we are witnessing the beginning of a new era in global boxing - an era in which Asia in general and China in particular are going to be major players," said Arum. "When the world tunes in to the 'Clash at Cotai' from the gorgeous Venetian Resort & Casino, it's going to be a real eye-opener."
The event marks the third time Top Rank and HBO have partnered to broadcast a worldwide PPV show from Macao, with Zou's bouts also airing live across China on CCTV.
murraygreig@chinadaily.com.cn