Some brooms, some ice, some very high hopes
Updated: 2011-12-21 07:57
By Yang Xinwei (China Daily)
| | | | | | | | | | | |
| --- | --- | --- | --- | --- | --- | --- | --- | --- | --- | --- |
|   | | Comments() | | Print | | Mail | | Large Medium  Small | 分享按钮 | 0 |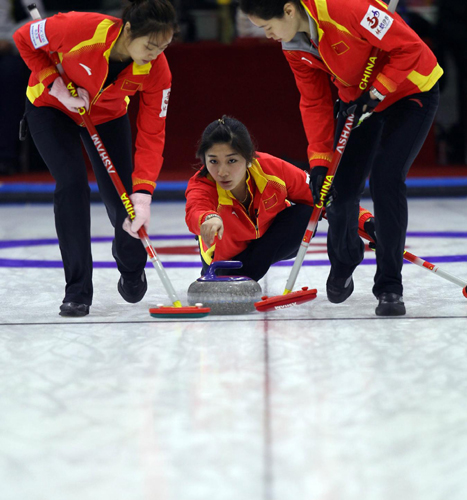 The Chinese national women's curling team enjoys a rare chance to play against five of the world's other top-rated teams at the Yichun international women's curling invitational. [Photo/Xinhua]
Yichun hosts some of the world's top players in an effort to build the city into a capital of curling, Yang Xinwei reports.
China has had trouble luring top athletes and teams to compete here. That is, of course, with the exception of big-money earners like soccer clubs Barcelona, Real Madrid and AC Milan, and maybe badminton and table tennis stars.
But an attraction is underway that is floating under Chinese sports fans' radars as the world's top six women's curling teams have gathered in Yichun, Heilongjiang province, for an eight-team invitational tournament.
The six countries Canada, an Olympic and world championship winner; Sweden, also an Olympic and world championship gold medalist; Switzerland, a world championship silver medalist and the team China defeated to win the bronze medal at the 2010 Vancouver Olympics, the United States and Denmark represent the elite of women's curling.
From Dec 15 to 20, they played their part in Yichun's efforts to become China's capital of curling. Yichun is also known as China's capital of forests.
Denmark won the title by beating Switzerland 11-4 in the final and China finished third by defeating Sweden 6-5.
Only 10 years ago, Wang Bingyu, China's women's team captain, didn't know what a curling stone was. But after she skippered her team to the 2009 World Championship title and the 2010 Olympic bronze, interest in curling in China skyrocketed, attracting enthusiasm from fans and local officials, who are looking at the sport from a different angle - an economic one.
For this eight-team tournament (China also entered a national junior and Yichun team), the Yichun government turned a former factory into a four-lane curling hall and invited a world-leading ice maker from Canada and World Curling Federation officials to referee the competition.
Li Dongyan, team leader of China, said the six countries at the event represent the highest level of women's curling in the world, and thus the tournament marked the highest level of its kind in China.
This comes just one year after Yichun claimed itself as the curling center of China.
Yichun has spent millions to welcome the world's leading women's curlers. It all started in January when the Lindu Yichun Curling Challenge was held on two temporary lanes between the China national teams and two local teams.
"After less than a year, we are right on track of making the city the center of China's curling," said Wang Aiwen, party secretary of Yichun City.
"Since January, more and more people in Yichun have started to play curling. I think we made the right choice, both from the sporting and the tourism perspectives," he said. "Curling is a fit for almost everyone, young or old and is easy to learn."
China has no more than 15 standard curling lanes, and Yichun boasts four of them.
Maintenance of the curling lanes and stones is expensive and the sport is still considered to be for the very few. But Wang is determined to make it a cheap and popular one. Table tennis is popular in China because of its low cost and easy access, he said.
"Of course the government wouldn't spend millions on building such high-quality lanes, but you can be sure of seeing curling getting more and more popular in Yichun," said Wang, adding some Yichun citizens are now playing curling over frozen rivers.
"We built China's best curling lanes to popularize the sport, to promote sports-themed tourism and to enhance international exchange by hosting international tournaments," said Yichun Mayor Gao Huan.
"Such tournaments also provided the Chinese team with chances to compete against the world's leading curling nations," she said. "And we'll continue to do so as long as our economic ability allows us."
But insiders say Yichun is not the only city interested in developing curling and using it as a trump card for sports and economic development - though it does hold a leading edge. Southern city Nanjing, which successfully hosted the Pacific-Asia Curling Championships 2011 won by China last month, is also showing great interest in the sport, according to Li.
Though China has become one of the world's leading women's curling nations, thanks to Wang and her teammates, and the sport is gaining attention from fans, sponsors and organizers, its development in China is still a work in progress, according to Zhao Yingang, director of the Winter Sports Administrative Center of the State General Administration of Sport.
"Curling is one of the winter sports set to enjoy special attention on its road to full development," Zhao said. "The influence and popularization of curling will continue to rise over the next few years."