HIV/AIDS testing, counseling to expand
Updated: 2011-11-22 07:24
By Shan Juan (China Daily)
| | | | | | | | | | | |
| --- | --- | --- | --- | --- | --- | --- | --- | --- | --- | --- |
|   | | Comments() | | Print | | Mail | | Large Medium  Small | 分享按钮 | 0 |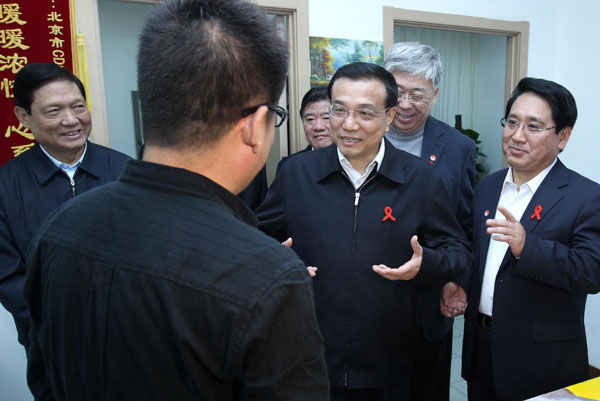 Vice-Premier Li Keqiang shakes hands with an AIDS patient at Beijing Centers for Diseases Control and Prevention on Friday. [Photo/China Daily]
BEIJING - China is set to substantially expand HIV/AIDS counseling and testing services in the next five years to strive for early detection and treatment for sufferers, vowed Vice-Premier Li Keqiang.
In the first 10 months of this year, China conducted nearly 67 million HIV tests on the mainland, up 16 percent compared with the same period last year, latest statistics from the Chinese Center for Disease Control and Prevention showed. In 2009, the total figure was 55 million.
In five years, voluntary and free testing would reach all county-level and above hospitals, as well as grassroots clinics in high-prevalence regions, said Li while presiding over the plenary meeting of the State Council AIDS Working Committee on Friday.
To achieve that, "the governments should provide HIV/AIDS-related civil societies with financial and other supports so as to bring their unique roles in HIV prevention and control into full play," he said.
That was so far the highest-level commitment made by the Chinese government in supporting civil societies committed to HIV/AIDS intervention.
Currently, such organizations work with money mainly from overseas, admitted Wu Zunyou, director of the National Center for AIDS and Sexually Transmitted Diseases Control and Prevention.
"The central government is making arrangements to correct that situation, as their important role was fully recognized - especially in reaching out to sufferers," he told China Daily on Monday.
At the end of 2009, China had 740,000 AIDS/HIV sufferers including more than 90,000 on medication, official statistics showed.
Updates to the epidemic situation will be made public around Dec 1, World AIDS Day.
Li also called for better medical treatment for people living with HIV and efforts to lower the fatality rate through such measures as addressing their financial difficulties.
Thomas Cai, director of AIDS Care China, a Guangzhou-based non-government organization supporting sufferers and their families, called on the governments at all levels to better involve social forces, including civil societies.
According to Cai, trial projects carried out last year in the cities of Wuhan and Xiangfan (now Xiangyang) in Hubei province showed that better involvement of civil societies helped detect more sufferers among the local population of men having sex with men (MSM), with a incidence rate of 7.8 percent compared with the previous 4 percent.
Also, Minister of Health Chen Zhu said previously that more than half of the infected people detected among MSM on the mainland involved efforts from civil societies.
However, Cai was concerned that privacy protection and following treatment should be better addressed when testing services are scaled up.
Meng Lin, an AIDS patient based in Beijing, said education was the key to combating the disease, urging the government to better inform the public of prevention knowledge and the relative services available, as well as to combat discrimination against those infected.
Li Keqiang said intervention programs would be expanded to include at least 90 percent of susceptible groups by 2015, which is also listed in the 12th Five-Year Plan (2011-2015) for HIV/AIDS prevention and control endorsed by Li on Friday.
Less than 40 percent of such groups have so far been reached for intervention, official statistics showed.