Small, but standing tall
Updated: 2011-12-09 09:06
By Xu Junqian (China Daily)
| | | | | | | | | | | |
| --- | --- | --- | --- | --- | --- | --- | --- | --- | --- | --- |
|   | | Comments() | | Print | | Mail | | Large Medium  Small | 分享按钮 | 0 |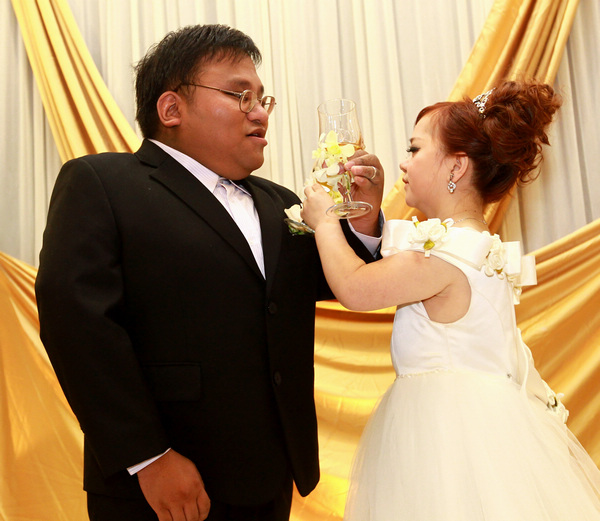 The 1.34-meter-tall Pan Xiaoming (left) and his bride, 1.16-meter-tall Lu Jiarui drink "cross-cupped wine" at their wedding ceremony in Shanghai on Nov 26. Provided to China Daily 
SHANGHAI - Like many "little people", newlyweds Pan Xiaoming and Lu Jiarui have had to overcome some big obstacles.
Because of their size, the couple have been turned down by schools and employers, as well as faced mocking from neighbors, relatives and passers-by. Even taxi drivers have refused to pick them up.
Yet, nothing could ruin their big day on Nov 26.
"I hope we little people can lead an equally brilliant life as normal people," said Lu, the 31-year-old bride, in an emotional address to the 50 guests at her wedding ceremony in Shanghai. "To achieve this, confidence is key."
According to experts, the term "little people" refers to those born with growth hormone deficiencies, which hampers physical development. It is not hereditary and has no impact on intelligence.
Despite greater awareness of the condition globally, however, discrimination remains a serious problem in China, forcing many to choose secluded lives on the Internet rather than facing stares in the street.
Zhou Kuiqing, head of the Chinese Red Cross Foundation's dwarfism management program, said of the 8 million little people nationwide, roughly 90 percent have some form of depression.
Lu is a rare case. Standing just 1.16 meters tall, she is held up as a huge inspiration by her friends, many of whom call her the "Petite Talent".
Not only did she graduate from Changchun Normal University - she stood during classes because the chairs and desks were too high for her - and find a job as a website editor, in 2009 she single-handedly launched Ai Xiao Ren, the country's first association for little people.
"She's the girl next door in our world," said her husband Pan, who is also 31 and stands 1.34 meters tall. "Almost everyone in our association knows and loves her."
The couple, who recited their vows under an arch of white lilies to the tune of Wagner's Wedding March, first met at a party organized by Lu three years ago. However, Pan was unaware of Lu's love for him until he deciphered a cryptic poem she wrote in her blog.
"I never expected anyone would find the true meaning, although inwardly I had dreamed about it millions of times," said Lu in her white, tailor-made wedding dress.
What followed were the kind of moments common in any romantic movie, including a huge teddy bear being delivered to Lu's apartment.
"We had been hesitating over whether to match our daughter with a normal-sized man until Pan Xiaoming walked into our lives," said Lu Shengjie, father of the bride. "He made us realize that it matters more for special people like my daughter to be with someone who understands them, rather than someone who can look after them.
"He is like an encyclopedia that my girl can talk to," he said, pointing to Pan in his black tuxedo, before admitting that he used to be concerned that Lu's talents may scare "little men" away.
Not everything has gone to plan. Just months before the wedding, Pan, who has brittle bones, was badly injured when his specially fitted motor tricycle collided with a truck. He suffered a fracture to his right arm and doctors say it may never fully heal. Lu described the accident as "an opportunity to get closer".
"Were it not for the accident, I wouldn't know how important he is to me," she said during her marriage vows. "When I was signing the consent form for his operation, I had already made myself his wife."
To allow more time for the groom to recover, the couple has postponed their honeymoon to Sanya on the island province of Hainan.
"It's fine, though. We are together, sound and happy," said Lu.
The newlyweds have started their new life in the 10-year-old, two-bedroom apartment they share with Pan's parents on the outskirts of Shanghai. They said there is no immediate plan to have a child, despite gentle persuasion from their respective in-laws.
"They will have no problem having a healthy baby," said Wang Wei, Lu's pediatrician, "But for the time being, they have a bigger task: helping to improve the lives of little people."