Foreigners flock to China for job opportunities
Updated: 2011-12-21 08:00
| | | | | | | | | | | |
| --- | --- | --- | --- | --- | --- | --- | --- | --- | --- | --- |
|   | | Comments() | | Print | | Mail | | Large Medium  Small | 分享按钮 | 0 |
Trend expected to continue as economy grows in coming years
SHANGHAI - Shanghai has China's second-largest population of foreigners and overseas Chinese, and 27.3 percent of them have come to the city purely for jobs, according to a report released on Monday by the municipal statistics bureau.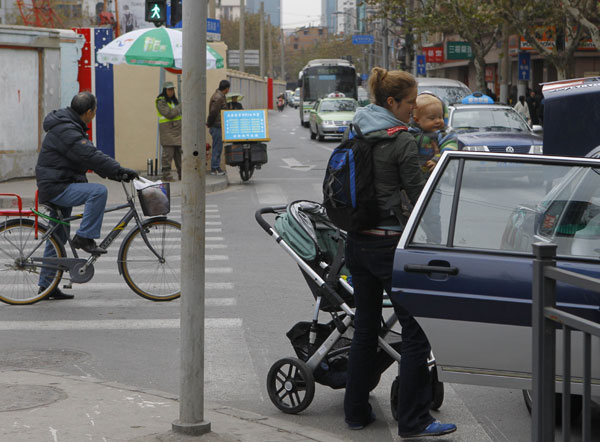 A foreigner helps a child into a taxi in Shanghai on Tuesday. More than 50 percent of foreigners come to the city for work. Gao Erqiang / China Daily 
A total of 104,300 residents, more than 50 percent of the city's foreigners and overseas Chinese - people from Hong Kong, Macao and Taiwan - came to the city primarily for long-term work or short-term business in 2010, said the report, which is based on the sixth national census conducted in November 2010.
This is the first time foreigners and overseas Chinese were counted in the census.
"Shanghai has seen a rapidly increasing flow of foreigners coming for jobs over the past three to five years, and the trend continues and is expected to grow significantly in the near future, given the booming local economy," said Sun Haode, director of the labor and employment center for foreigners under the labor and social security bureau in Shanghai.
Sun said that he and his team are working to help local enterprises recruit foreigners, sign work agreements and apply for work permits for them.
According to the report, foreigners in Shanghai stay on average for 21 months, with people from South Korea, Malaysia, Singapore, the United Kingdom, France, Germany and Canada staying the longest.
"I found it easy to settle in my first job in China within a month of my arrival, and I worked for a 3-D animation company for a while before I got my current position," said Gary Williams, a 26-year-old business director at Thread Design, a foreign-invested creative design company in Shanghai.
Williams used to work as a bank manger in Newcastle, England, but he wanted to do something more exciting and came to Shanghai in January 2009 looking for a job in design and media.
"The projects and opportunities that I can work on here are great, and I've learned that developing countries will turn to China, not the US or UK, for inspiration when looking for the best practices in design, branding and architecture," he said.
"I think a foreigner can either come to teach English, or come as a highly educated and experienced expat with a good offer for a position and salary in hand. Those who don't belong to these two categories may have to fight for a job, because the requirements for foreign workers are quite high in the city," said Williams, who considers himself lucky.
But not every young foreigner in Shanghai is so lucky.
"I graduated last year without any work experience, and I had studied in Shanghai and Beijing over the past two years," said Piero Marzullo, a 23-year-old Italian who has been looking for a job in the city for more than two months.
Marzullo, who majored in Chinese at an Italian university, came to China in September hoping to find work as an interpreter. Although she has spent about five hours a day sending out resumes to employers, she has had no success yet.
"I've sent thousands of job applications to companies in Shanghai, and I just got about 20 interviews in return, which makes me doubt that speaking fluent Chinese is enough to get a job in China," she said.
Marzullo has noticed that most of the positions for foreigners in Shanghai are related to business management, marketing and finance. She is proficient in none of these.
"Hopefully, I can find a job that matches my education background as soon as possible, with a basic monthly salary of about 7,000 yuan ($1,100)," she said.
A number of headhunters and human resources consultancies have opened special sections to help foreigners find jobs.
"We've noticed that there are fresh graduates having problems finding jobs in China, for they lack work experience, which is essential if a foreigner wants to work in the country. We've suggested they go back to their home countries and return when they have at least two years' experience," said Tan Qian, an account manager in charge of foreigner recruitment at FESCO Adecco, one of the leading HR services companies in China.
As a HR services company, FESCO Adecco has long-term agreement with the government of South Korea to hold two job fairs annually in Beijing and Shanghai to help South Koreans find jobs in China.
Facts and Figures
There are 143,200 foreigners in Shanghai from 214 countries and regions all over the world in 2010, while most numerous members of that group were citizens of Japan, the United States and the South Korea.
Foreigners working in Shanghai had on average received an education of 12.8 years, prior to coming to Shanghai, and 71 percent of them had obtained degrees above the college level.
More than half of the city's 208,300 foreign residents from overseas live on their own, while just over 20 percent of the demographic have a spouse from the Chinese mainland
Some 54.2 percent or 112,900 people comprising Shanghai's overseas population are without family in the city, while 24.3 percent people have married someone from the Chinese mainland last year.
According to statistics from the sixth national census released by the National Bureau of Statistics, a total of 593,832 foreigners currently reside in China.