The long wait
Updated: 2011-09-23 07:50
By Lei Lei (China Daily)
| | | | | | | | | | | |
| --- | --- | --- | --- | --- | --- | --- | --- | --- | --- | --- |
|   | | Comments() | | Print | | Mail | | Large Medium  Small | 分享按钮 | 0 |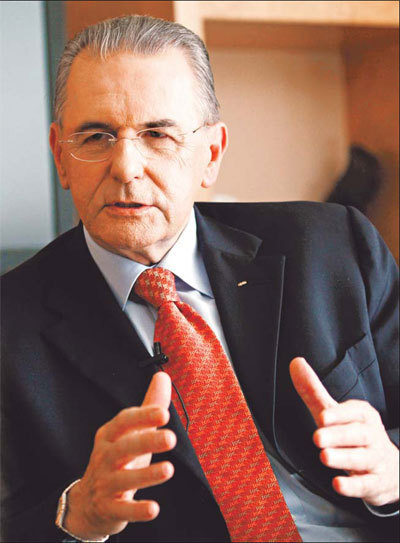 Jacques Rogge, president of the International Olympic Comittee is confident about the 2012 London Olympic Games. "The organizing committee is very good," he said. [Photo by Zhang Tao / China Daily]
China will have at least 20 years before it can host another Olympics, says IOC president, but it will win a lot of medals in the meantime, Lei Lei reports
China will have to settle for hosting just about everything other than the Olympics for a long time to come. But that's no reflection on the Beijing Games, International Olympic Committee (IOC) president Jacques Rogge told China Daily in an exclusive interview on Thursday.
After Beijing was home to the Summer Games in 2008, Chinese cities began hosting all kinds of events. There were the Asian Games in Guangzhou last year, the Summer Universiade in Shenzhen last month and, in 2014, the city of Nanjing will organize the Youth Olympic Games.
But it will take 20 years or more for China to welcome another Olympics, Rogge said.
"I think it would be realistic to think that the earliest day would be something like at least 20 years after Beijing (hosted the Games in 2008)," he said.
"The Games belong to mankind. They don't belong to one country. The IOC wants to travel around the world for the Games."
Rogge is in Beijing for the 14th World Conference on Sport for All.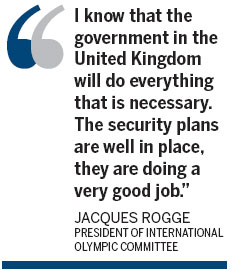 "The minimum might be 20 and it might be more," he said. "Look at London. London organized its first Games in 1908, its second in 1948 and now the third one in 2012. There had to be first 40 years of waiting and then 64 years of waiting."
At the 2008 Olympics, the first in China, the host country topped the gold medal tally for the first time with 51 gold medals, 21 silvers and 28 bronzes. It beat out the US, traditionally a sports powerhouse, which was second with 36 golds. Will competing in London, where China will lose its home advantage, cost the delegation in the medal count?
"It's always difficult to confirm (who will top the medal table). Mostly, it is more difficult to confirm than to achieve," Rogge said.
"I think China will compete with the United States for the No 1 spot. One factor that has to be looked at is that the home advantage that you had in 2008 and will you lose that home advantage or not. I don't think so because your team is very well prepared So I think they will perform as well in London as they did in Beijing."
With less than one year to go until the London Olympics, which will open on July 27, Rogge said he is confident, especially because of the sports tradition in Great Britain.
"I am as confident for London as I was for Beijing, because the organizing committee is very good," he said.
"The British people love sports. And also there is something very important for London, which is that England is where many sports were born at the end of 19th century. They invent many sports. They know sports and they love sports. They have the tradition that many sports were born in their country."
The riots that broke out in London last month caused some concern for the Games' security. Rogge expressed his trust for the British there, as well.
"Security is always very important for every Olympic Games, be it London or any other Games in other places," he said.
"I know that the government in the United Kingdom will do everything that is necessary.
"The security plans are well in place, they are doing a very good job."
Since taking the position of IOC president in 2001, Rogge and his staff have made great efforts in tackling the dark side of sports, such as match-fixing, illegal gambling and doping.
The London 2012 will be the first Summer Games to use a "biological passport," a long-term way to track the blood parameters of athletes, to avoid drug cheats.
Rogge said cheating is a "matter of credibility".

"If you cannot trust the results, you can't trust the sport," he said.
"The sport is based on fair play and respect of the rules. If you see a competition with a result that is manipulated by money and cheating, you will have no joy in watching it.
"Doping is very bad. If one player on the team is doping, this is unfair. This is cheating. But if the entire team is cheating, it is even worse because you cannot believe the result any more then.
"The use of a biological passport is very significant. It is a major weapon to fight against doping. So I'm very glad that the IOC is able to use that in London."
Hot Topics
Organ transplant bonds mother and son