Long identified as the city of flowers, a paradise for food lovers and the epicenter for trade and industry in the Pearl River Delta region, Guangzhou, in Guangdong province, is now rapidly becoming known as the home of Chinese football.
This idea gained further credence on Monday with the launch of the Jaguar Football Campus Guangzhou, delivered by Tottenham Hotspur - a Jaguar Land Rover China Children and Youth Dream Fund program, which is answering the national call to develop campus football in China.
The kick-of event at South China Normal University saw 300 guests attend, including 200 youth football players. At the event, Jaguar Land Rover China, the China Soong Ching Ling Foundation, Tottenham Hotspur Football Club and the Guangzhou education bureau, together announced a year-long youth football development program. It will see members of the Tottenham Hotspur global coaching team provide 42 Guangzhou PE teachers with the drills, tips and techniques they need to improve the football skills of 60,000 primary and middle school students in the city.
"Youth football development has been a cornerstone of the Dream Fund since its inception in May 2014. In partnership with the China Soong Ching Ling Foundation, our football programs are benefiting 80,000 Chinese children over the three years to 2017. This latest initiative further underlines Jaguar Land Rover China's commitment to cultivating grassroots football, creating opportunities for children throughout Chinese society, and growing its business in a sustainable and responsible way", said Richard Shore, acting regional president of Jaguar Land Rover Greater China.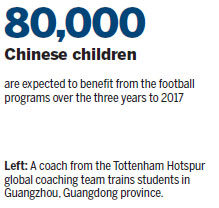 Power of expert partners
In the Guangzhou education bureau and top premier league club Tottenham Hotspur, the Jaguar Football Campus Guangzhou has two program partners with the access, expertise and track record to take full advantage of the talent and passion of Guangzhou's young football players. Tottenham Hotspur is considered a leading club when it comes to youth development, with the likes of England striker Harry Kane progressing from the club's academy to the first team in recent years.
Grant Cornwell MBE, head of global coaching at Tottenham Hotspur, said: "We understand the importance of football development in China and, given our track record, we are perfectly placed to harness the talent and passion for the game in China to help develop young players who could become future stars."
China-UK football& exchanges
Tottenham Hotspur will also play host to November's Jaguar Sino-UK Football & Cultural Exchange, by welcoming 40 children from across China to the UK for an intensive one-week football training course at the club's world-class training center. During the trip, the children will also play football with their British peers, attend an international football match between rivals England and Scotland, and learn about British history, culture and values.
The Jaguar Land Rover and Tottenham Hotspur partnership is significant because it fuses two celebrated British icons that are revered for doing things in "the right way" - with style, grace and success. While both can recall glorious pasts, it is the impact they are making in the present that is helping them to stand out: Tottenham Hotspur is taking its place in this season's UEFA Champions League and Jaguar Land Rover is on course to achieve a record number of global sales in 2016, supported by its China market performance.
Responsible approach to business
As well as laying solid foundations for business success in China, four regional offices, a state-of-the-art joint-venture manufacturing facility in Changshu, Jiangsu province, and an expansive network of more than 200 dealers are all in place. Jaguar Land Rover has and continues to set the standard for corporate social responsibility in the automotive industry.
The award-winning Jaguar Land Rover China Children & Youth Dream Fund, which was established in partnership with the China Soong Ching Ling Foundation and with a 50 million yuan ($7.5 million) start-up investment, has improved life for nearly 160,000 children since May 2014, through programs organized under four pillars: sports for all, social care, road safety and talent development.
As the Dream Fund nears its target of 200,000 beneficiaries over three years, the leadership at Jaguar Land Rover China and the China Soong Ching Ling Foundation are ever more determined to increase its scope and extend its influence into more communities throughout China.
As well as collaborating with specialist non-government organizations and highly effective partners - Tottenham Hotspur are a case in point - a new Dream Fund database will help capture important information on key programs, such as the Land Rover Never Stop Caring-Journey for Vision. Through this systematic and detail-driven approach, the Dream Fund will be better equipped to identify those Chinese children most in need and create programs with them in mind.
Taking strength from a flourishing football culture, the expertise of key partners and the continued support of this committed British automaker, the Jaguar Football Campus Guangzhou program looks set to secure Guangzhou's status as China's first city of football, with the highlighted youth football training initiative.
haoyan@chinadaily.com.cn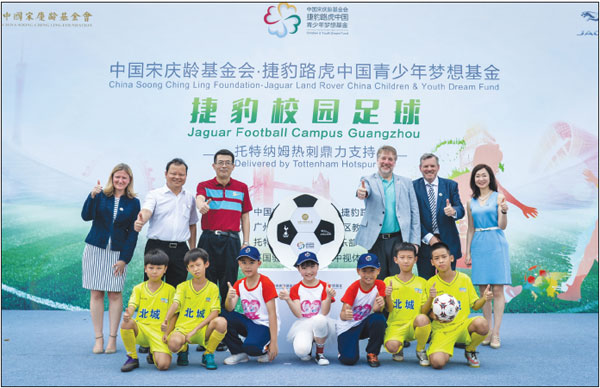 Partners from Jaguar Land Rover China, the China Soong Ching Ling Foundation, Tottenham Hotspur Football Club, the Guangzhou education bureau and the British Consulate in Guangzhou unveil the Jaguar Football Campus Guangzhou program on Monday.Photos Provided To China Daily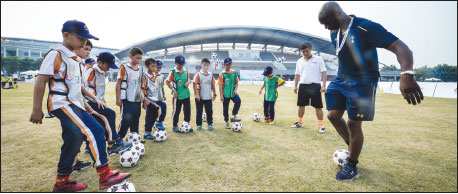 (China Daily 09/28/2016 page15)