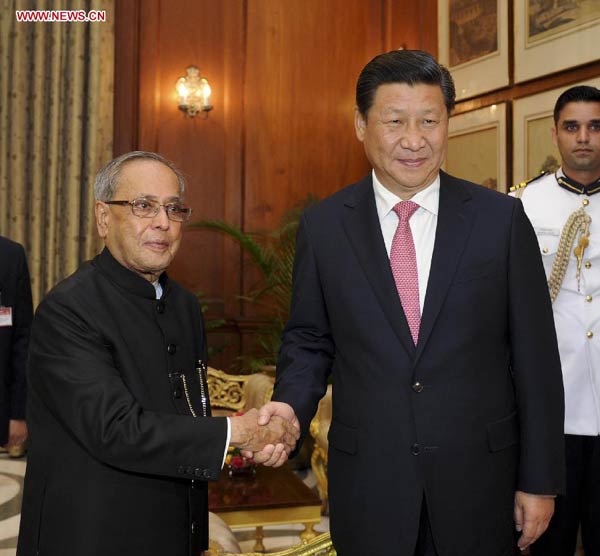 Chinese President Xi Jinping (R) meets with his Indian counterpart Pranab Mukherjee in New Delhi, India, Sept 18, 2014. [Photo/Xinhua]
As the city with the biggest Indian settlement in China, Guangzhou is the most important destination in China for Indian business travelers, which is why Indian President Pranab Mukherjee is beginning his visit to China from this city on Tuesday.
The capital of South China's Guangdong province, and the Indian city of Ahmedabad signed a sister city agreement during President Xi Jinping's visit to Ahmedabad in September 2014 and many more business deals were signed during Indian Prime Minister Narendra Modi's visit to China in May last year.
Guangdong is known for former Chinese leader Deng Xiaoping's famous "southern tour" in 1992, which laid the foundations for the unprecedented rise of China. So given that main purpose of Mukherjee's visit is to enhance business, cultural and people-to-people exchanges, Guangzhou makes an apt starting point.
He will begin his visit by addressing the Indian business community in the city at the India-China Business Forum. The more complex political issues besetting relations between China and India will come up during his interactions in Beijing. Here, in view of the fact that relations between the two countries have returned to a low-ebb in recent months, Mukherjee seems to be India's best bet to take this crucial relationship forward.
Mukherjee, a seven times member of the Indian Parliament from 1969 to 2012, has headed various ministries since 1973 and is clearly the most experienced senior politician among India's political elite today. He is known as "Chanakya", after an ancient Indian sage who is often compared to China's Sun Tze. Given his several visits to China in his earlier stints as India's foreign minister and defense minister, he has long experience of interacting with Chinese leaders. So he could also be China's best bet for engaging with India.
Among the most immediate issues at hand, India needs China's support to obtain membership of the Nuclear Suppliers Group which will come up for discussion next month. Besides, there are lingering issues such as China being concerned about the Indian Navy once again participating in US-Japan led Malabar naval exercises in the South China Sea.
But other than businessmen, politicians and officials, Mukherjee's delegation includes the heads of a large number of Indian universities and other educational institutions and the two sides will be holding their first ever roundtable on educational exchanges and cooperation. This and his address at Peking University will provide forums for India's president to share his wisdom on building long-term bridges with India's largest neighbor.
The tone for this vision was already set in Mukherjee's interview with Xinhua News Agency before leaving for China where he sought to put a positive and proactive spin on India's continued reluctance to engage with China's Belt and Road Initiative. In contrast to sentiments expressed at New Delhi's Raisina Dialogue in March, he underlined how a "better connected Asia requires that all the countries concerned consult together on determining the best way forward". He said increased connectivity is the key to providing benefits to the people of Asia and imparting fresh momentum to regional development.
This conciliatory tone for consultations on the Belt and Road Initiative, the Silk Road Economic Belt and 21st-century Maritime Silk Road, reflects the growing consensus among India's strategic community, which now favors engaging China's initiative.
Even staunch supporters of the United States' rebalancing to the Asia-Pacific strategy and the US-Japan-India axis, believe that instead of seeking to counter or ignore it, it is in India's best interests to coordinate India's own Project Mausam or Spice Root initiatives with China's Belt and Road.
Hopefully, this presidential visit will help both sides to carry this spirit forward.
The author is a professor at Jawaharlal Nehru University, New Delhi.