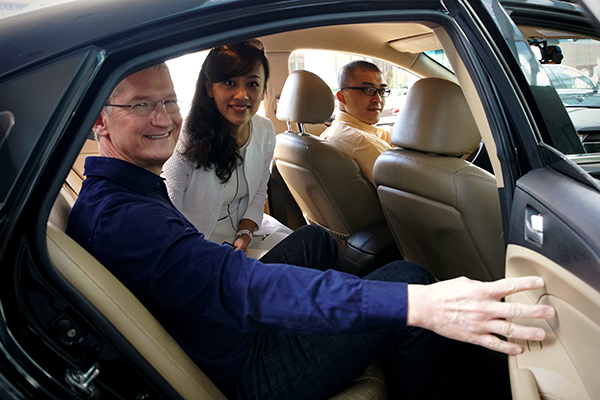 Apple CEO Tim Cook takes a taxi hailed via Didi with Jean Liu Qing, president of Didi, to an Apple store in Wangfujing in downtown Beijing on May 16, 2016. Cook's visit follows Apple's investment of $1 billion in the Chinese ride-hailing service. [Provided to chinadaily.com.cn]
New technologies change industries, and the taxi industry is no exception. App-based taxi services such as Uber (globally) and Didi Chuxing in China have created significant competition for the traditional taxi companies (licensed and with fare meters in their cabs).
London black cab drivers are famous for learning "the knowledge" so that they can prove they know how to take a passenger the quickest route from A to B and, of course, their taxi vehicles are expensive to buy but very spacious, reliable and fit for the purpose. Equally the easy to recognise New York yellow cabs require a Medallion (license) to operate. These used to change hands at high prices, although now the value of these has dropped noticeably. However, the monopolies created by the old rules led to higher prices and app-based taxi services have emerged to break these monopolies.
Many will say this is a good thing. And we all know that traditional taxis are difficult to get when it is raining, and that the drivers of some licensed cabs in big Chinese cities are reluctant to drive during the rush hours as the time spent in heavy traffic is financially unrewarding. And then there are times when a taxi will stop but then refuse the ride because of the destination or else stop but demand double the fare because it is late at night.
There have always been some alternatives to licensed cabs such as pre-booked airport pick-up services but such companies cannot legally "ply for hire" in the street. Now a taxi app can search hundreds of taxis operating in a customers' area and find one near and available that will respond (and also adjust the fare in busy times-the market at work). Add to that the more convenient means of payment through the increasing use of smartphones for bank account linked payments, such as Apple Pay, AliPay and WeChat pay. As an illustration of their impact, Didi Chuxing announced in March that it had hit 10 million ride hails per day in China.
So should we be hailing a rosy future for the app-based taxi industry? Apple has announced a planned investment of $1 billion in Didi, which is good news for a taxi hailing company that is still loss-making despite huge business growth. Apple is keen to develop Apple Pay in China, and encouraging Didi customers to use it is a smart way to expand, in addition Apple has its own driverless car project and may see some synergies with that and the technologies that Didi Chuxing is developing.
But only time will tell. Uber is profitable in most countries but, like Didi Chuxing, is also loss-making in China. There are some concerns about how the combined technologies are creating "instant taxi drivers"-untrained, unlicensed taxi drivers-and concerns about the safety of female passengers, and the quality and condition of vehicles. A combination of due diligence by the app providers and government regulatory activity is needed as the industry grows.
Lastly, spare a thought for visitors to a city. These are often the people most in need of a taxi. Do the taxi-hailing apps really help them? In China as a temporary visitor, what if you do not have the app? What if you do not have a local bank card registered to pay the service? What if you have an address in Chinese written on a piece of paper, you cannot give that address over the phone when using an app?
For some visitors it seems to have increased the number of taxis with green lights on display that speed by rather than stopping because they are responding to an app booking. It is not win-win yet and some city authorities are banning app bookings in rush hours.
Clearly there is still work to be done to establish the long term role of this game changer. We need to watch this space.
The author is an economist and director of China Programs at CAPA-The Global Education Network, which cooperates with East China Normal University in Shanghai.