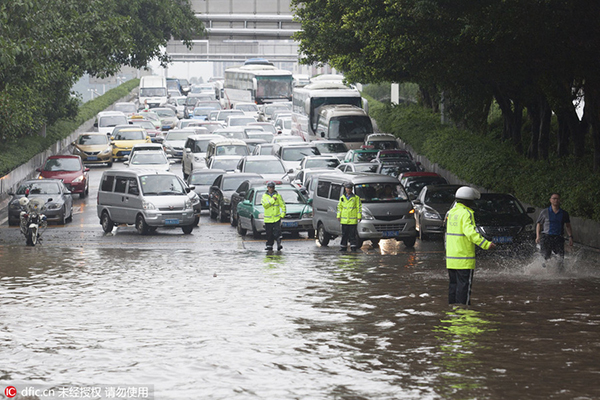 Police officers stop vehicles in front of a flooded road section in Guangzhou, Guangdong province, on May 10, 2016. [Photo/IC]
One after another, cities in southern China have found themselves inundated with the recent heavy rainfall. Residents are busy posting photos online, showing them in boats in the streets or catching fish in the water. Yet such a response should not obscure the fact that floods threaten people's lives and bring huge economic losses.
Flooding is caused not only by heavy rainfall, but also the inadequate infrastructure that fails to channel the water away. In September 2013, the State Council, China's Cabinet, urged local governments to improve the drainage capabilities of cities, and many cities have been working on this.
However, most of them are simply strengthening the pipes, which is only one of the necessary measures. In order to solve the problem of city flooding, authorities must take comprehensive measures that range from infrastructure maintenance to ecological protection.
The following are some proposals for a comprehensive solution.
First, the design standards for drainage pipes must be raised. According to current standards, the drainage pipes in most cities can only withstand the severity of a deluge that occurs only once in a half to three years.
Even in Beijing, the pipes are only designed to cope with the severity of rainstorms that occur only once every one to three years.
In developed countries, the pipes are designed to cope with rainstorms of a severity that happens only once in five to 10 years. For example, to help solve the problem of flooding in Tokyo, Japan has invested 240 billion yen ($2.21 billion) since 1992 in building a draining system in Saitama prefecture in the north of Tokyo.