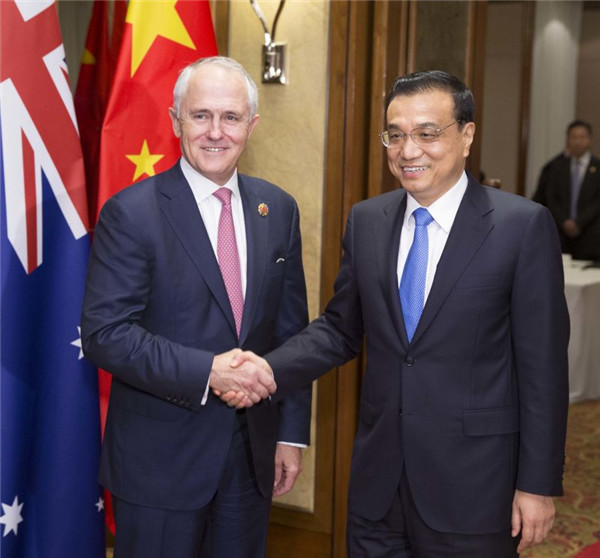 Chinese Premier Li Keqiang (right) shakes hands with Australian Prime Minister Malcolm Turnbull during their meeting on the sidelines of a series of regional summits in Kuala Lumpur, Malaysia, Nov 21, 2015. [Photo/Xinhua]
The United States is finding its regional hegemony in the Asia-Pacific contested as China whittles away the US' influence in its neighborhood.
The most recent example of the expansion of Chinese influence relates to the sea boundary disputes with Brunei, Cambodia and Laos. Chinese Foreign Minister Wang Yi reported on April 24 that these members of the Association of Southeast Asian Nations had agreed to follow individual paths of bilateral negotiation with China. This despite US President Barack Obama urging ASEAN member states to stand together in dealing with China's South China Sea position only two months earlier.
Australia, too, has opposed Chinese actions in the South China Sea, prompting Chinese Defense Ministry spokesman Colonel Wu Qian to call on Australia to "cherish the hard-won good momentum of development in bilateral relations".
Many Chinese seem puzzled about Australia's position on the South China Sea and why it is not congruent with that of China. Australia and China already have good relations so they do not understand why the two countries cannot see eye-to-eye on security matters such as this?
However, the Australian partnership with the US is a long-standing one, and one it is unlikely to give up. Australian policymakers will no doubt be watching nervously, as will their European counterparts, to see if Donald Trump's presidential campaign pronouncements to revisit the US' strategic architecture, might translate into policy if he ends up occupying the White House.
Yet Australia's position vis-à-vis the South China Sea is one taken by a friend of China, not a foe.
Countries continually seek to develop their defense capabilities, this includes forming alliances. But such moves should not be misread as confrontational. The actions must be seen in the context of other balancing actions, notably economic and soft power actions.
The proof of the pudding with regard Australia is in the contrasts seen relative to its security and economic interests. While Australia is a major shareholder in the Asian Infrastructure Investment Bank its ally, the US, has fought shy of joining the AIIB. Australian national security interests have led to a rotational system of marines at the US base in Darwin. But the Northern Territory's economic interests have led to Landbridge, a Chinese company, winning a 99-year lease valued at $506 million, to operate the Port of Darwin.
It must be said here that Australian public opinion is far from monolithic. Groups have come out for and against the economic and security actions in Darwin.
But as friends, China and Australia can influence each other, not only regarding the South China Sea, but also on other matters of mutual interest-such as cyber security and terrorism. Australia cannot coerce China to acquiesce to its stance, nor has it the intention to do so. Likewise, China cannot and does not seek to coerce Australia to accept its stance.
Undertaking cooperative projects, whether military, economic or cultural, is a way of growing reciprocal positive images. So far there have been 18 Defence Strategic Dialogue meetings between Australia and China. The dialogue was reported to have been upgraded at the end of 2015 in areas of counterterrorism, peacekeeping and senior personnel exchanges.
We also know that Royal Australian Navy frigates engaged in "live firing" training exercises with Chinese naval vessels in October 2015. And China will join the US-led multinational naval Rim of the Pacific exercises off Hawaii in June and July 2016.
These are signs that this is not a Cold War type situation, but rather a more complex balancing of interests-economic and security-in the contemporary geopolitical context.
Australia, China and the US can cooperate in a triadic relationship to their mutual benefit without precluding other partnerships.
The author is a professor and inaugural director of the Soft Power Analysis and Resource Centre at Macquarie University.