For quite some time, an increasing number of Chinese fashion designers have been, by invitation on many occasions, gracing the catwalks at international fashion weeks and showcasing an emerging, modern and dynamic Chinese fashion industry.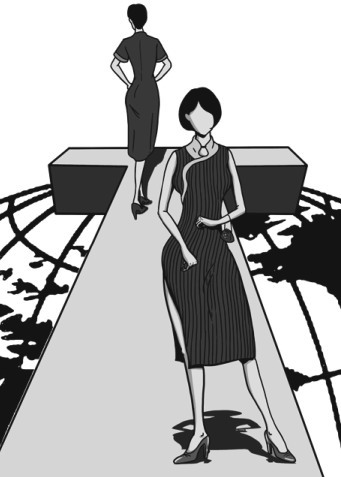 Haizhen Wang (a luxury womenswear label based in London), Xander Zhou (collections aimed at preserving traditional Chinese culture through fashion, based in Beijing), Masha Ma (whose recent collections have been featured in Vogue and Elle) and Uma Wang (Wang's eponymous label has recently showcased catwalk collections at London, Paris and Milan fashion weeks), to name but a few, continue to contribute to significant and sizeable global recognition of the talented and creative industry.
And last month Shanghai-based fashion brand Arete Studio, only launched in 2013 by Jasmine Ting, was one of a few select brands invited to parade at the internationally prestigious Paris Fashion Week's AMF Paris Showroom.
Most importantly it is increasingly the home-grown Chinese talents who are being invited to showcase their work and ideas internationally, often at major fashion shows in the fashion centers of the world.
The times are changing and turning into very exciting moments indeed for the wave of Chinese fashion designers.
Such is the attention and achievement now associated with this emerging pool of young Chinese fashion design talent that only a month or so ago, White Milano, one of the most prestigious international fashion shows in the industry's calendar, carved out an area dedicated to young talents from the Chinese mainland.
This area was promoted with the banner "China Calling" and proved hugely popular among all attendees. Sonja Long Xiao, founder of the Shanghai-based concept store Alter, was invited to organize the display of many rising Chinese fashion designers such as Nicole Zhang, Chen Yi Yuan and Shushu Tong.
The coalescing of a number of young, talented Chinese fashion designers will have accelerated international awareness of their presence.
Beyond Milan, Chinese Academy of Art graduate Min Wu's work was first displayed at London Fashion Week in September 2015. And rising Chinese star Guo Pei followed up her success at the Met Gala in New York last May with a debut appearance in Paris in January during Haute Couture Week.
But how to build on this international market exposure and make meaningful progress in the competitive area of global brand building?
What we now need to see from these Chinese fashion pioneers is evidence of careful, considered international market penetration plans and brand building programs. A coherent strategy with a detailed target market profile per country or region and a clear, valued and unoccupied market position are fundamental to any sustainable success overseas.
That said, collaboration, co-operation and learning from others should not replace each fashion designers' own talent and creativity.
Above all else, young Chinese fashion designers should never forget that it is their mother country that has put them where they are and its unique history and heritage can shine through again and again in the visual appearance and symbolic imagery surrounding their latest designs.
The author is a visiting professor at the University of International Business and Economics in Beijing.