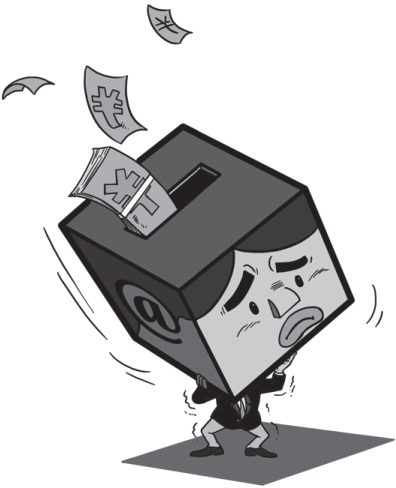 In only a few decades, China has gone from copying even cumbersome foreign commercial internet models to building internet economic models that foreign countries are now imitating. However, the race among domestic internet enterprises to offer huge subsidies in order to raise their market value has left foreign companies wondering how they can survive in then long term.
Domestic companies' eagerness to get a bigger slice of the new capital market cake after its possible privatization has intensified the "money-burning" race, raising doubts whether this is a normal development model. The formation of the "money-burning" circle among domestic internet enterprises is closely linked to the present development status of the online sector.
The internet-dependent generation, or those born in the 1980s and 1990s, is on the way to becoming the leading consumer group in China. But because of the relatively small population base of such people, an internet-based consumption habit is yet to be formed in the country.
Given this situation, may investors believe offering huge amounts of subsidies is an effective way of expanding the internet-user market and helping people for man online-reliable consumption habit.
The heavy subsidy model is the only, and an instant, way of grabbing market share. Or so they believe. Since enterprises enjoy advantage in attracting or investing capital are willing to transfer certain interests to customers and use the internet to help change their daily consumption habits, these consumers will gradually tilt toward subsidy-providing enterprises, thus raising the possibility of raising these enterprises' market value.
On the one hand, the internet is being used to attract capital, which will then be used to expand the user market. On the other hand, the expanded user market will boost these enterprises' high-value and high-paced growth potential. This, in turn, will offer a database for capital introduction, creating a confusing "financing, money-burning and refinancing" circle. Can such kind of heavy subsidy model get market endorsement?