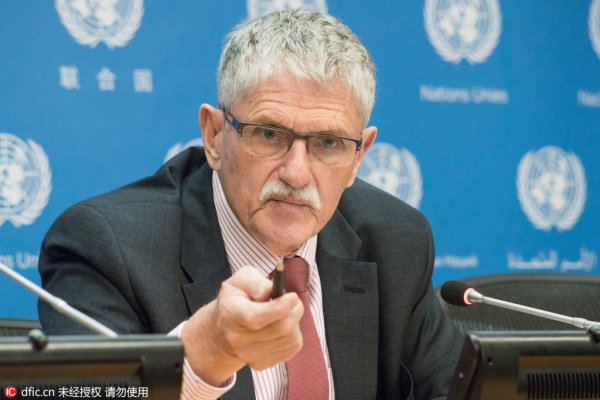 Mogens Lykketoft, President of the Seventieth session of the United Nations General Aassembly, held a press conference to outline upcoming events pertaining to the signing ceremony for the Global Climate Agreement and the thematic debate on implementation of the Sustainable Development Goals.
This Friday, politicians from across the world will meet at the United Nations Headquarters in New York to sign an agreement to keep global temperature rise below 2 degree Celsius, which UN members agreed in Paris in December last year.
Representing China at the signing ceremony will be Vice-Premier Zhang Gaoli, who delivered a speech at a UN climate meeting in New York in September 2014 at a time when the world body was desperate to expedite the process to reach a deal in Paris.
Zhang's presence at the UN Headquarters reflects just a tiny part of Beijing's commitment to fighting climate change as a global leader. China is also helping set rules of global governance by synergizing the efforts of all countries to overcome problems in other areas too.
Since the Copenhagen climate summit in 2009, two subjects have often hit the headlines: questioning of China's conviction in fighting climate change and developed economies' failure to transfer funds and technologies to poor countries to help them combat and adapt to climate change which is the result of the greenhouse gases emitted mostly by industrialized nations.
China, despite being a developing country, has always joined global efforts to combat climate change. In 1992, then premier Li Peng signed the UN Framework Convention on Climate Change in Rio de Janeiro. And in 2009, then premier Wen Jiabao made every effort possible to reach a comprehensive deal in Copenhagen.