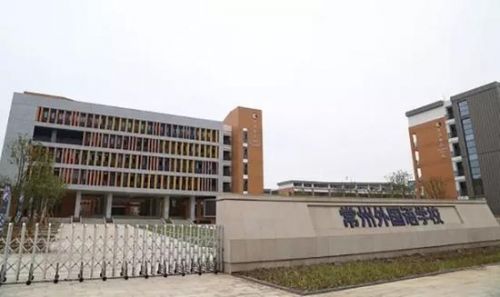 Changzhou Foreign Languages School [Photo/agencies]
Nearly 500 students have reportedly been diagnosed with health problems ranging from dermatitis to leukemia since the Changzhou Foreign Languages School in East China's Jiangsu province moved to its current campus in September.
The students' families claim this is due to seriously polluted plots of land across the road, citing a test report that says the concentrations of chlorobenzene in the underground water and soil at the former sites of chemical plants were respectively 95,000 times and 79,000 times above safe levels.
A news release from the Changzhou government reported by Xinhua News Agency on Monday insisted the site had passed an environmental evaluation and was safe, and the school is in normal order with only several students on sick leave. The local environmental protection agency says their tests of the campus found nothing unusual.
We can't be more familiar with this-all aspects of it.
Since, more likely than not, such an episode could end up as another example of the dereliction-of-duty-then-cover-up formula revealed in similar scandals.
Something is seriously wrong with the school, even if the site itself is not the cause.
A joint investigation team has been set up by the Ministry of Environmental Protection and authorities in Jiangsu province to look into the pollution-related illnesses among the school's students. This is a welcome move.
Yet under the current rules, construction of the new campus should not have begun until the project passed an environmental assessment. The appraisal report was dated more than seven months after construction work started.
Not to mention the evaluation did not even take into account poisonous pesticide residues, the suspected culprits for the students' health problems.
The same report, which approved the project, warned of health and ecological risks, stating both the soil and underground water nearby "were polluted", and development projects would cause air pollution.
So there is plenty of clarification needed of the apparently self-contradictory report.
And it is important to find out whether the students' health issues are pollution-related. Unless pollution is excluded categorically as the cause, it is essential to determine to what extent the students' health problems may be due to it.
Therefore, the investigation by the joint team is the only way to come up with authoritative, convincing answers to the public's suspicions.