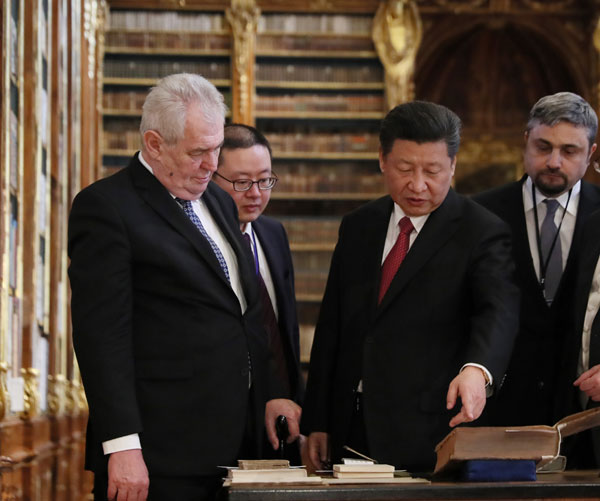 Chinese President Xi Jinping visits Strahov Library in Prague, the Czech Republic, March 30, 2016. [Photo/Xinhua]
After holding intensive political meetings, engaging in lively exchanges with young football and ice hockey players, and signing cooperation documents during his March 28-30 visit to the Czech Republic, President Xi Jinping and his Czech counterpart Milos Zeman visited the 850-year-old Strahov Library in Prague. After being introduced by the museum curator to the collections on Chinese-Czech exchanges dating back to 300-500 years, the two presidents stepped onto the veranda to get a bird's eye view of Prague while sipping their farewell beer.
Shortly after Xi left for Washington to attend the Nuclear Security Summit, I too had the chance to visit the stunningly magnificent library, which consists of the Philosophical Hall, which houses the Czech-language collection on Confucius and the early comprehensive introduction to China, and the Theological Hall with stuccoes and paintings. The books on China, some of which are original manuscripts, were mostly written by missionaries during their stay in or after their return from China hundreds of years ago.
Jan Parez, curator of the library's manuscript section who was responsible for preparing the items for Xi, said the president has a deep understanding of and respect for Czech society and culture. Thanks to Parez, I had the privilege to visit the two halls, which are now open to tourists, and enjoy the panoramic view of Prague and soak in the glory of the place where the two presidents drank their farewell beer.
Xi said it was a rare experience to see such a rich arts and cultural treasure. Some other journalists who reported Xi's visit to the library on March 30 also called it the most beautiful library in the world. Indeed, the library is symbol of knowledge and beauty, and carries a strong message.
Both presidents are extremely keen readers with a preference for books on history and civilization. And by saying that a long history and bountiful cultural heritage are the precious wealth of the Czech people and that China is an ancient civilization with a history of more than 5,000 years, Xi has highlighted the great potential for the two countries to learn from each other and expand their cultural exchanges following the establishment of a strategic partnership during his visit. And the two presidents know that increasing people-to-people and cultural exchanges is the key to laying a firm foundation for the development of bilateral relations.
During his visit to the Czech Republic, Xi promoted mutual cultural respect. But there was more to his visit than economic and cultural exchanges. Xi visited the Czech Republic shortly after China announced the 13th Five-Year Plan (2016-20). By the time the plan is completed in 2020, China's per capita income is expected to reach $12,000 making it a relatively high-income country. Also, Xi has vowed to end extreme poverty in China by 2020.
Given these facts, one can say Xi's visit to the Strahov Library also signifies his vow to offer enough public goods to those in need. And this is an area where Europe has a lot of experiences to offer to China for example, it has already used the index of the number of books a child has access to at home to measure people's living conditions in a region.
China needs to identify the poor and needy in the country, as well as build more libraries to allow children from poor families to have access to more books because they can help them emerge out of poverty.
Going by European standards, building more cultural venues such as libraries, museums, theaters, sports centers and swimming pools should also be given priority, in order to help propel China's economic development and lift people's incomes as well as living standards.
The author is deputy editor of China Daily European Edition. fujing@chinadaily.com.cn