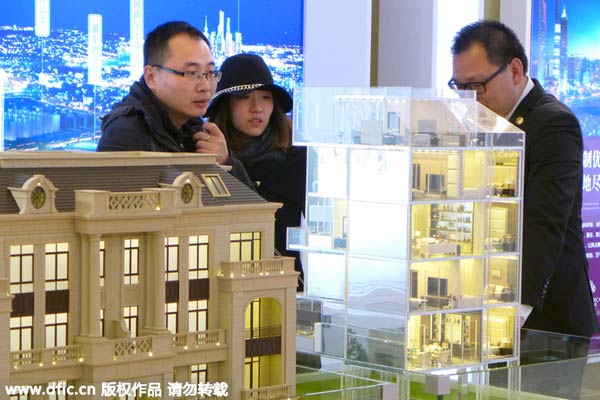 Chinese homebuyers look at models of residential apartment buildings during a real estate fair in Shanghai, December 13, 2014. [Photo/IC]
To bridge the gaps in data availability, we (Standard Chartered) conducted our semiannual proprietary survey of China's property market in January-February, focusing on unlisted developers in lower-tier cities and polling senior managers at property developers in six second- and third-tier cities.
Our diffusion index based on our survey strengthened to 57.3, from a stagnant reading of 50.8 in our previous survey in July 2015. This suggests an improvement in housing-market sentiment and a potential property market recovery in the near future. The sales and policy outlook improved significantly, followed by construction and financing activities.
The recovery in sales has boosted developers' expansionary appetite and eased their financing burden. But the latest survey indicates the slow pace of inventory digestion will continue to contain price gains. The survey shows developers' construction activity started picking up in the fourth quarter of 2015 and is set to accelerate in the first quarter of this year. The total floor space of projects under construction rose 11 percent from July 2015 levels, of which floor space of newly started projects increased 29.6 percent.
The land market also appears to be warming up despite higher land prices continuing to put pressure on developers' expansion appetite. Land auctions by local governments have increased slightly, while developers' land-buying appetite is growing. Since land purchases are seen as a leading indicator of property construction activity, this bodes well for a recovery of construction in second- and third-tier cities in the near future.
Apartment sales continued improving, reflecting a broad-based sales recovery, though to a lesser extent than in first-tier cities. The survey showed real demand-including from first-time buyers and up-graders-continues to dominate the market, accounting for 93 percent of buyers.
But despite signs of recovery in housing sales, the existing inventory and new supply will continue to weigh on the market. Considering the destocking pressure, apartments' prices are likely to rise only mildly this year.