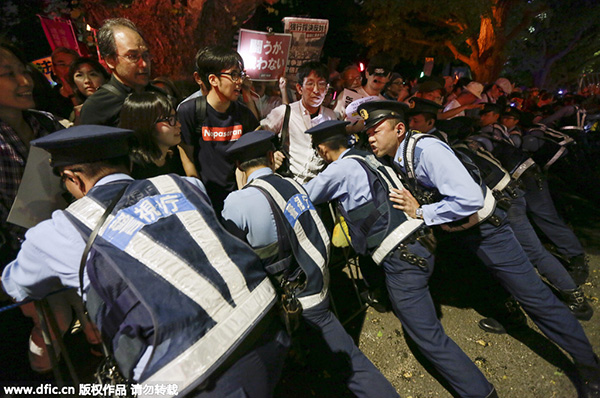 Japanese policemen contain protesters as they demonstrate against Japan's controversial national security bills in front of Japan's parliament building in Tokyo, Japan, Sept 14, 2015. [Photo/IC]
Days before the country's new security laws came into effect on March 29, Japan's Prime Minister Shinzo Abe asked National Defense Academy graduates to prepare to implement them.
But, embarrassingly, an increasing number of cadets are not interested in careers in the country's Self-Defense Forces.
Cadets at the academy pay no tuition fees and receive free room and board along with monthly stipends. The academy's graduates usually end up becoming SDF officers. However, 47 out of 419 graduates this year preferred the private sector rather than joining the SDF, double the number last year.
It is the largest number since 1991 when a record 94 graduates declined to join the SDF. That year, Japan was deliberating on whether SDF personnel should be sent to the Gulf War.
Japanese defense ministry officials have tried to play down the choice of the cadets, claiming that private businesses offer more openings for university graduates.
But the truth is that those graduates are appalled by the just-executed security laws, which greatly expand the SDF's duties overseas and allow Japan to come to the aid of allies around the globe in contingencies that "gravely affect" Japan's security.
Many people in Japan call the new laws "war legislation," fearing the nation will either enter, or be dragged into, military conflicts that are not of its making.
Some 600 lawyers are scheduled to file a lawsuit with the Tokyo District Court challenging the constitutionality of the laws this month.