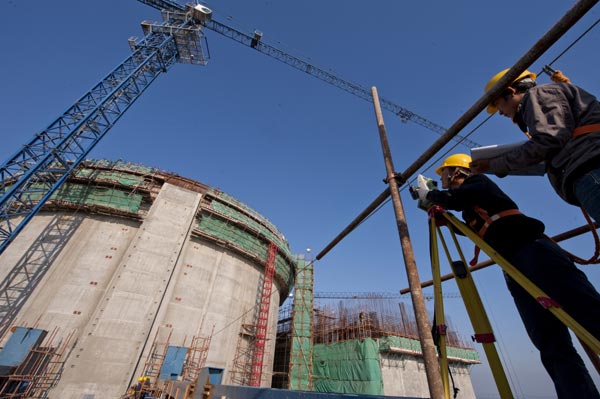 The Fuqing nuclear power plant is under construction.[Photo/China Daily]
President Xi Jinping will be in Washington on Thursday and Friday to attend the fourth Nuclear Security Summit, in which China plays an important role to improve global nuclear governance. The most important aspect of nuclear security is safeguarding nuclear weapons, especially at a time when the spread of terrorism in the Middle East and the terrorist attacks in Europe pose a threat to nuclear non-proliferation.
Terrorists, especially those wreaking havoc in the Middle East, see the United States as their common enemy. To tackle this rising threat, the US has to work with all countries, China in particular.
In fact, recent years have seen more frequent interactions between the US and China on the issue. This month, the largest and most advanced nuclear security center started operation in Beijing. Co-established by China Atomic Energy Authority and the US Department of Energy, the center is mainly aimed at preventing the smuggling of nuclear materials and providing training to nuclear detection experts in the region.
Another important aspect of nuclear security is related to civil nuclear power plants. Nuclear power plants do produce clean energy, but their security and safety remain of utmost concern, as the Fukushima accident in Japan in 2011 showed nuclear power plants remain vulnerable to not only terrorist attacks but also natural disasters.
For China, nuclear security issues are challenges as well as opportunities. First, China accords the highest priority to nuclear security and safety. At the third Nuclear Security Summit in The Hague, the Netherlands, in 2014, Xi put forward China's nuclear security concept-adhering to security in development to achieve development in security.
Xi is expected to push forward this concept at the Washington nuclear summit, too, and defend the rights of developing countries to develop nuclear energy for civil use. On this point, the US and China have some disagreements. Washington contends that civil nuclear technology can be turned into military nuclear technology, and US President Barack Obama insists on strengthening supervision of nuclear materials.
Second, China is in a position to export nuclear power technology for civil use. Thanks to decades of development, China is now a leader in nuclear power technology. With its third-generation nuclear power technology, China has also been strengthening the safety and security aspects of the technology according to the most stringent international standards. It has also achieved a major breakthrough in the development of fourth-generation nuclear power technology, laying a solid foundation for exporting safe nuclear technology.
Last year, China's nuclear power technology made inroads into countries considered traditionally strong in nuclear power generation. China is also working with the United Kingdom and France on nuclear power investment projects. That's why Xi could highlight China's achievements in the field of civil nuclear energy at the Washington summit and show the world that it is fully capable of exporting nuclear energy technology for civil use.
Chinese leaders have attended all the three Nuclear Security Summits. And since China and the US share many common interests in the field of nuclear security, they have all the reasons to cooperate on the issue. The deal reached in 2015 with Iran to limit its nuclear power usage showed cooperation between China and the US is good for the world.
Besides, China emphasizes both rights and obligations in nuclear safety, as well as harmonious cooperation between countries to create a peaceful international environment so that nuclear security issues can be resolved. At the Washington summit, therefore, Xi is expected to play an even more constructive role in global nuclear governance and to make it reflect the interests and needs of the international community.
The authors are researchers at the Center for China and Globalization, a domestic think tank.