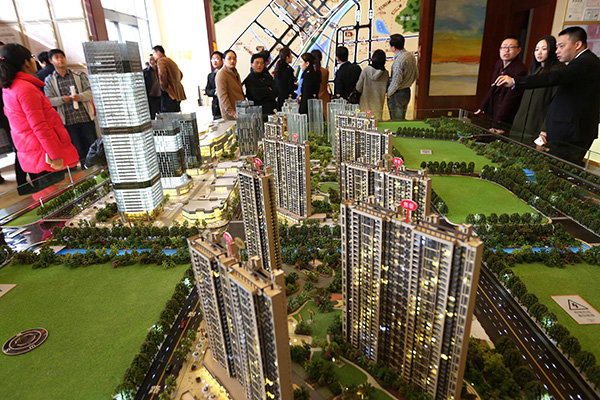 Homebuyers at the sales center of a property project in Nanjing, Jiangsu province, on Feb 29. Cities like Nanjing and Shanghai have announced preferential housing tax policies, which have ignited local enthusiasm for home-buying. [Photo provided to China Daily]
China's banks, financial regulators, government officials and homeowners can all perhaps breathe easier. Despite surface appearances, China's over-heated property market will not collapse as the US housing sector did in 2008, taking much of the world economy down with it. Yes, there are danger signals in China's enormous real estate industry. China's problems are real and need addressing, but the differences with the United States are large and decisive.
Start with the fact the US housing crash was brought on by lax lending practices, a politically rigged regulatory system and a debt-fueled "buy-and-flip" short-term investment strategy. Another fundamental difference: in the US buying a house with borrowed money is subsidized by the tax code. Not so in China. China also, thankfully, has nothing like the subprime "Ninja Loans"-meaning loans to those with no income, no job, no assets-that were widely available in the US before the crash.
The biggest risk in China is not a US-style tidal wave of failed mortgages that leave families homeless and banks insolvent. Instead, the risk comes from an unbalanced flow of capital into property investment. Too much of China's total savings are now going into this one form of investment. While buying apartments has long been popular, other types of investments-especially in the stock market and in unregulated fixed-income securities-have suffered a big decline in popularity in recent months, with good reason.
The weight of all that additional money flooding into property investment inevitably pushes housing prices up, especially for apartments in major cities. Putting more land on the market for development and building more low-cost housing are both good moves.
But the best way to cool China's housing market both now and for years to come is to have more good and safe alternatives for people to invest in. This will take some time as well as a strengthened regulatory and legal environment. But changes are urgently needed.
Meantime, the government should continue its policy to gradually expand the amount of money Chinese can legally invest in shares and mutual funds outside China.