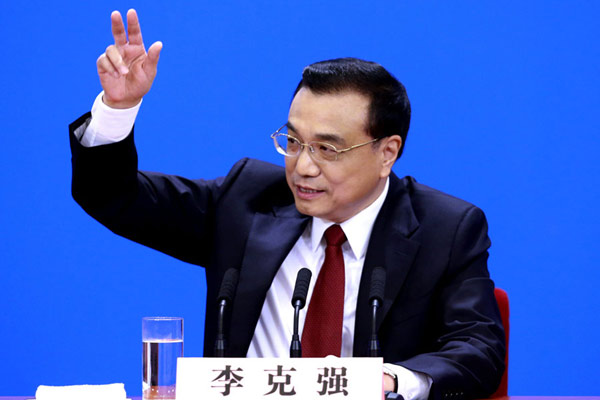 Premier Li Keqiang answers question of the media at his news conference. [Photo by Feng Yongbin/chinadaily.com.cn]
Do not worry about the Chinese economy losing traction: There is plenty of potential still to be tapped, and the government has sufficient policy reserves to ensure it is.
Do not worry that temporary pains may compromise the government's commitment to changing growth drivers: Overcapacity will be cut, and the government will make sure those affected are properly accommodated.
Do not worry about the government failing to pay pensions: Reports of difficulties are regional and temporary, the central government will see to it that pensions are paid timely, and in full.
Premier Li Keqiang's question-and-answer session with the media on Wednesday was all about confidence. And he delivered what he termed a "heart-soothing pill"-that the economy remains on track, and the government will try its best to assuage any pains reform and transition may cause.
If the Chinese economy were to wither, it would exacerbate economic woes globally. So the rest of the world is reading our monthly economic indices as carefully as we are, if not more.
Most of the domestic audience does not care that much about the gross domestic product figure. What matters to them is whether the rumors about millions of layoffs will materialize, whether the government pool of pension funds is truly drying up, and for how much longer they will have to wait until the government honors its promise of a nationwide social security network, among other things.
Li assured us he is optimistic about the long-term prospects for the economy, and that his confidence "does not come from nowhere".
We share his belief that difficulties and hopes for the economy co-exist, and that, considering the fundamentals and overall trends, the hopes trump the difficulties.
We see hope in the attempt to tackle the imbalance in regional development, in the bearing of the heavy burden of poverty alleviation, in the bid to tap the potential of the tremendous unmet demand in the domestic market, and in the efforts to address the pervasive undersupply of both public facilities and services across the country.
But behind such hopes are the challenges that put the authorities' commitment to reforms to the test.
As Li mentioned, a balance has to be maneuvered among cutting overcapacity, promoting development, and stabilizing employment. That is no easy job. And that is only one of many badly needed reforms.
Nonetheless we have to press ahead. We call the next five years the make-or-break period, because our economy and overall development can afford no more foot-dragging on reforms.