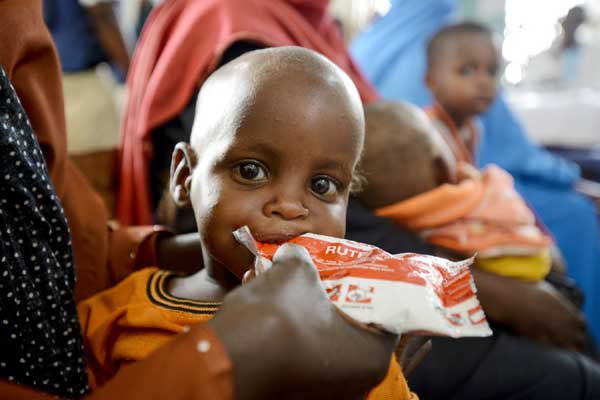 A child takes ready-to-use therapeutic food (RUTF) while waiting to see the doctors at a UNICEF-supported outpatient therapeutic feeding center in Baidoa, Bay region, southern Somalia. As long as there are no complications, some 90% of children can recover from malnutrition by taking RUTF. [Photo/UNICEF]
Whenever I visit the Asia-Pacific region I am impressed by its dynamism and the many successes its people have achieved, not least of which was meeting the goal of halving the proportion of hungry people in region under the just-concluded Millennium Development Goals (MDG) effort.
Now, the newsuccessor to the MDGs – the global Sustainable Development Goals (SDGs) –has set the bar higher, placing the complete eradication of hunger and major improvements to nutrition as targets.
Globally, the will is there, and, with the energy that countries in Asia and the Pacific have shown in recent years, the region can again play a leadership role in this bold effort.
But it's not time to take a victory lap, not just yet. Successes haven't been even, and with 490 million people across Asia and the Pacific still suffering from undernutrition – that's 62 percent of all hungry people in the world – the battle is far from over.
Indeed, the road to a ZeroHungerworld will not be an easy one and the challenges -- here in the region and across the planet -- are as many as they are complex.
For one, we'll need to produce more – and more nutritious – food to feed a rapidly growing world population projected to top nine billion people by 2050. (Asia is expected to account for most of that growth.) Doing so, we'll have to take better care of the environment – using ever-more-scarce natural resources with greater care, doing less damage to Mother Earth.
Meanwhile climate change and the increasing frequency of natural disasters – which affect this region more than any other –are creating great uncertainty. This will make farming even riskier, especially for family farmers – witness the recent droughts in Thailand and Cambodia and heavy flooding in Myanmar.
And other new challenges have emerged.For instance, as diets change across the region, nutrition is emerging as an area for priority attention. The Pacific Islands, where over 50 percent of the population in at least 10 island countries is overweight,offer one example. But there are others; across the entire Asia-Pacific region, some 18 million children under five are overweight. (Paradoxically, at the same time the rate of child stunting in several countries in the region is over forty percent.)