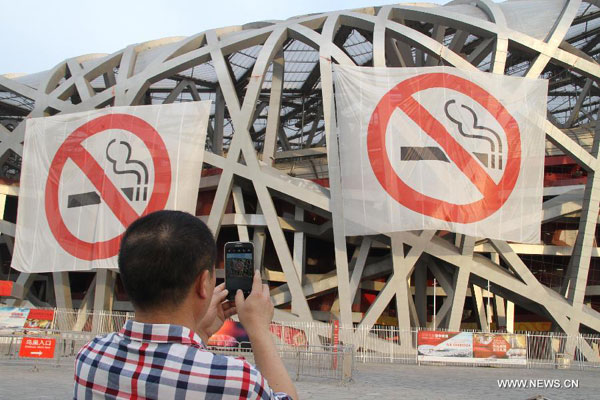 Non-smoking banners are displayed on the iconic Bird's Nest National Stadium in Beijing, capital of China on June 1, 2015. [Photo/Xinhua]
Deputies to the National People's Congress, the top legislative body, and members of the National Committee of the Chinese People's Political Consultative Conference, or the top political advisory body, from around the country have descended (or will soon descend) on the capital to participate in the annual "two sessions". Since the Beijing local government passed the country's strongest anti-smoking law to date last year, visiting delegates will be able to enjoy a truly smoke-free environment in the city and during the course of the important discussions in the Great Hall of the People.
What better setting to kick off the 13th Five-Year Plan (2016-20) period and to push forward the "Healthy China" that the 13th Five-Year Plan calls for!
But there is so much more to do. At the end of 2015, there were an estimated 315 million smokers in China according to data released by the Chinese Center for Disease Control and Prevention. This is a truly staggering number. But even more troubling is the fact that the overall number of smokers actually increased by 15 million during the 12th Five-Year Plan (2010-15) period.
Since at least half of all smokers die as a result of their habit, the fact that China's addiction to tobacco is taking a dreadful toll on the country's health is now self-evident. And Chinese smokers are hurting not only themselves, but through second-hand smoke they are also hurting their friends, family and others around them. China simply cannot be a healthy and productive society when the overall number of smokers is growing.
The startling fact that the overall number of smokers is increasing by the millions every year should serve as a wake-up call to NPC deputies and CPPCC National Committee members that more-much, much more-needs to be done.