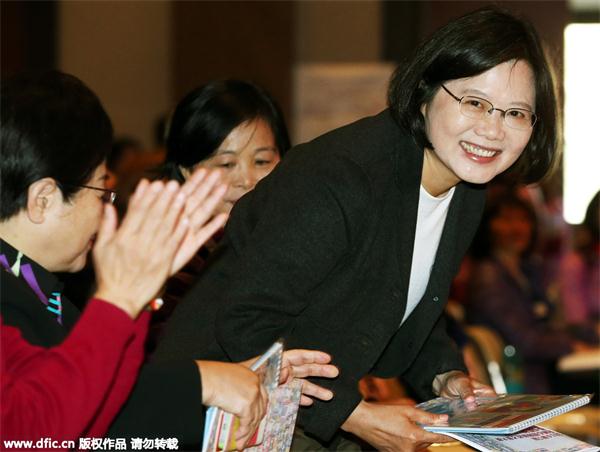 Democratic progessive party leader Tsai Ing-wen attends to the talent competition of children with mental disabilities in Taiwan. [Photo/IC]
The number of mainland tourists visiting Taiwan has declined sharply before and after the island's leadership election in January, which Democratic Progressive Party leader Tsai Ing-wen has won.
About half of the sightseeing buses on the island have not been booked during the past two months or so. Also, popular local scenic spots such as the Sun Moon Lake and Ali Mountain seem to have lost their magic in attracting more visitors from the other side of the Taiwan Straits. No wonder some observers are worried about Taiwan's tourism being dealt a blow-especially to hotels, restaurants and airlines-because of the possible changes in future cross-Straits relations. After all, the number of mainland visitors serves as a major barometer for Taiwan's tourism sector.
Peaceful cross-Straits relations and the island's opening-up policies, as incumbent Taiwan leader Ma Ying-jeou said on Feb 19, are important for the fast growth of the tourism sector. Mainland visitors accounted for about 40 percent of total number of tourists in Taiwan last year. In real terms, about 4.18 million mainland tourists visited Taiwan in 2015.
The fact that the DPP, which challenges the 1992 Consensus on one China, will come to power in Taiwan in May has discouraged some mainland tourists from visiting the island.
To aggravate matters further, a DPP lawmaker recently suggested removing the portraits of Sun Yat-sen, the founding father of modern China, from all government office buildings and public schools.
An Fengshan, spokesman for the mainland's Taiwan Affairs Office of the State Council, has condemned the motion to remove Sun Yat-sen's portraits, calling it an "open trick" and appealing to compatriots across the Straits to oppose such moves. Sun Yat-sen has been revered on both sides of the Straits for his leading role in the 1911 Revolution, which overthrew the imperial Qing Dynasty (1644-1911) and put an end to more than 2,000 years of feudal rule.