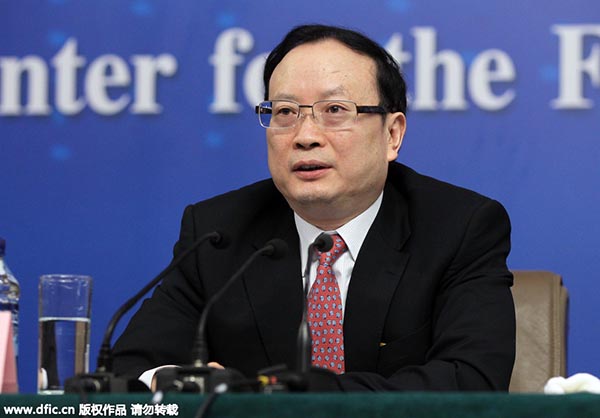 Wang Bao'an, director of the National Bureau of Statistics [Photo/IC]
Appointing Ning Jizhe, a well-known government think-tank economist, to be the new head of National Bureau of Statistics is a welcome move.
The 60 year-old Ning has a PhD in economics from Renmin University of China and has been one of the deputy chiefs of the National Development and Reform Commission, China's top economic planning body, since August 2015.
He will hold the two positions concurrently.
His predecessor at the NBS was Wang Bao'an, who was in office for no more than 10 months before being removed when he was investigated for corruption in late January.
Wang was formerly head of the administrative staff of the Ministry of Finance, and he was allegedly involved in some suspicious connections and deals there.
Ning's appointment was officially announced on Friday. Filling the NBS director's vacancy swiftly with a professional economist in the run-up of the annual session of the National People's Congress, which is scheduled to open on March 5, shows how seriously the State Council, China's Cabinet, views the position and the organization's role.
The NBS, as the government office responsible for releasing the latest, and supposedly most authentic, updates of China's economic data, has a huge responsibility to help the world understand the nation's complex and, at times, difficult transition in its course of development.
Ning's job is not just to report the statistics; much less a PR job. The head of NBS is, above all, a representative of the Chinese economy and speaks to all economists and business people around the world. It is an especially important task when many new things are happening in China-sector by sector, province by province, and industry by industry.
His task is also to explain what old patterns are fading away and what new ones are emerging, and why. It is a task that can only be fulfilled by someone who has a good grasp of modern economics and rich experience in the practice of the country's reform and development.
Ning has long been a researcher in China's regional planning and industrial and environmental policies, and has been one of the drafters of many national development programs.
At times, overseas commentators hold different views about the Chinese economy from the official presentation. But there is no gainsaying that the NBS' data has been the most consistent, and in recent years, some survey methods have been improved in such a way as to be more comprehensive and more reflective of the country's changing realities.
Assigning a senior economist to lead the NBS shows China's openness and willingness to share its economic data more effectively with the world.
The author is editor-at-large of China Daily. edzhang@chinadaily.com.cn