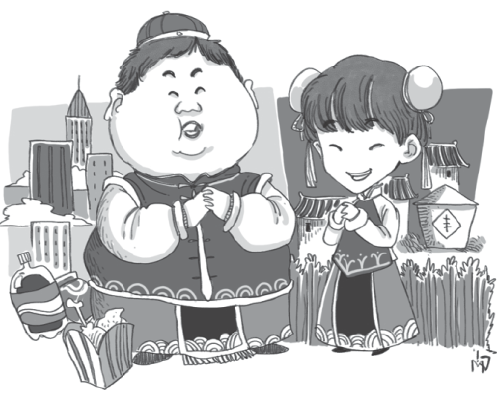 CAI MENG/CHINA DAILY
China's dual burden of malnutrition, which encompasses under nutrition and over nutrition (overweight and obesity), places immense stress on its public health systems and endangers the development of the population. China has made impressive progress in reducing its population of undernourished people by half, but 158 million people in China remain undernourished. After the United States, China has the highest number of obese people in the world. According to a 2014 global study published by medical journal The Lancet, more than 28 percent of men and 27 percent of women over age 20 in the country are overweight or obese.
Many low-income communities continue to suffer the devastating impacts of nutrient deficiencies which lead to high infant mortality, stunting, delayed development and impaired cognition. Concurrently, rising urbanization and income in developing cities have caused an increased consumption of processed foods and "fast food", accompanied by a higher predisposition to lifestyle-related diseases such as diabetes, cardiovascular diseases and certain cancers.
Wider reverberating effects may be felt by national and provincial economies in terms of lost productivity, higher business costs, and ultimately, a hit on economic momentum. Regional figures show the economic burden of malnutrition to be substantial- an 11 percent loss of gross national product across Asia between 2000 and 2009, due to under nutrition alone.
Nutrition practitioners at a nutritional finance workshop by the Milken Institute in 2015 acknowledged that the enormity of the challenge requires scaling up existing nutrition interventions. Governments, NGOs, philanthropic organizations, and private companies have invested in nutrition-specific interventions such as promotion of breastfeeding, improved sanitation, access to healthy foods, and public health campaigns to promote healthier lifestyles.
Given the acute funding gap and limited funding sources, we are examining ways to engage new forms of capital that could diversify the pool of investors.
A volume guarantee ensures purchase of nutrition products at a predetermined quantity and price to encourage investment in production. Profit margins are generally low, and diminish further when selling to low-income communities. The guarantee, usually from a donor, helps local producers manage business risks and generate more attractive profits. This could appeal to investors and provide growth capital to reach more markets. The challenge lies in accurately mapping market demand and identifying suitable interventions and marketplaces that will benefit from this type of funding incentive. Social impact bonds tend to be less popular in Asia as these new instruments are perceived to be extremely risky. The model is dependent on data that articulates a link between an intervention and its cost-savings to a government or donor. Unfortunately, insufficient data exists to prove a direct causal relationship to justify the structure of a social impact bond. A reduction in stunting rates may be a result of several interventions such as improved nutrition, education and sanitation. This model may be useful where intervention has direct measurable impact, such as school feeding programs or shorter hospital stays due to improved nutrition.
Impact investment or small and medium enterprises funds are seeded by institutional investors, development finance institutions, and banks to provide growth capital for companies with both a financial and social mission. A nutrition-focused investment fund could help to catalyze investment into nutrition projects that run for a minimum of five years or longer, and generate below or near market returns for investors. Currently, SME funds have yet to be effectively targeted towards nutrition partly due to the lack of investable companies. To create a more robust pipeline, an incubator or acceleration program could be created to provide technical assistance to entrepreneurs and companies working in nutrition.
Increasing the momentum to address malnutrition will largely depend on the availability of additional funding. As philanthropic activity grows in China and other parts of Asia, foundations and philanthropists could provide a much needed boost. A concerted effort to demonstrate the inter-linkages of nutrition with child and maternal health, education, food security, and gender, will also achieve greater alignment with investors, donor agencies and governments.
Belinda Chng is associate director of Innovative Finance and Program Development at the Milken Institute Asia Center and Caitlin MacLean is director of Innovative Finance at the Milken Institute.