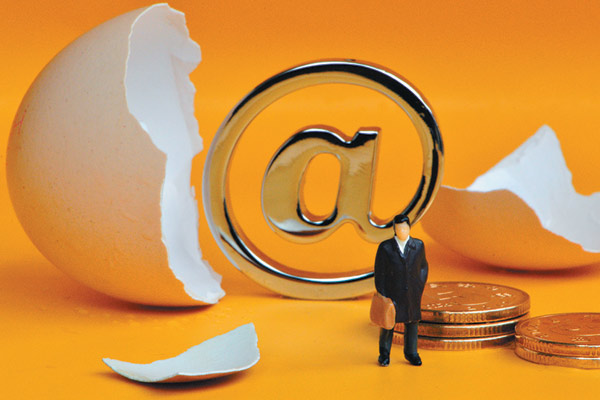 The trading value of China's booming peer-to-peer platforms hit 250 billion yuan for the whole of 2014, doubling 2013's statistics. [Photo Provided to China Daily]
A series of scandals involving online financing platforms, including Fanya Metal Exchanges, Ezubao and Dada Group, have come to light in recent times. These former online financing services are under investigation, and investors risk not getting back their assets worth hundreds of billions of yuan.
For instance, Ezubao, or e-loan service which was set up in July 2014, allowed users to buy its financial products on the Ezubao-developed app for smartphones on an annual interest rate of 9 to 14 percent. The interest rate was a clear sign of its risky activities, because it was much higher than that of general financial products and the average profit rate of most enterprises. To put it simply, the return rate promised by the e-loan managers was too high to be true.
E-loan has other problems, too. Most peer-to-peer, or P2P, loan platforms trust their money to banks or other third-party payment institutions, which makes their funds secure because of external supervision. But e-loan companies simply save the money under their own account without external auditing. Besides, unlike most P2P loan platforms that serve small- and micro-sized enterprises, e-loan companies prefer to issue big loans, whose risks exceed their capacities.
These problems afflicted financial platforms during the pre-Internet era. But now they have become especially serious, because many unscrupulous companies and managers use the Internet to gamble on their products and concepts, some of which are rather misleading. For example, some online financial platforms promise that investors will get at least their principal back. And a column in their investment contracts guarantees this, which, in turn, attracts many investors. However, such a guarantee increases the cost of the platform and raises the risk of bankruptcy, because when the capital chain fractures, the column becomes a mere scrap of paper.
Besides, there is still no specific law for online P2P financial platforms. The legal risks are rather high and it is difficult for investors to protect their rights in case problems occur. The good thing is that the authorities have realized this and are propelling legislation. But law enactment is quite a long process.
Therefore, people need to abandon their blind pursuit of profit and carefully study different platforms before choosing one of them as their investment vehicle. A trustworthy online P2P financial platform should be transparent about the flow of its funds and clearly list the information on the fundraisers that get loans from them. Besides, the law sets the ceiling on the interest rate of online P2P financial platforms at 24 percent a year, when in reality the loans issued by P2P platforms seldom exceed 12 percent. So it is better not to choose those promising an annual interest rate of more than 12 percent, which are alluring but almost always illusive.
The government, on its part, needs to expedite the legislation process. And the specific law governing online financial platforms must be detailed enough to offer legal support to preempt some of the malpractices, especially highly risky acts such as behind-the-scene deals. Only with proper supervision can e-loan platforms be prevented from cheating more people.
The author is an analyst with E-Commerce Research Center, an independent think tank.