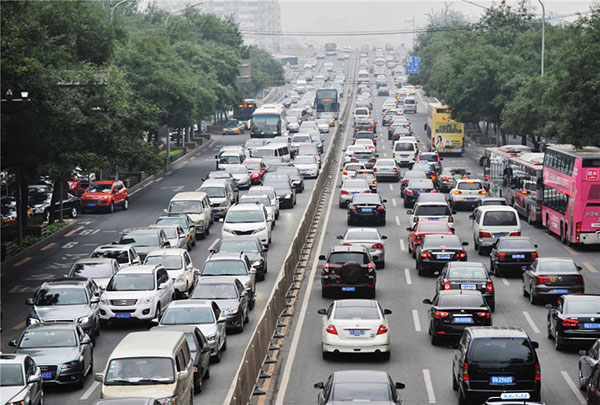 Traffic grinds to a standstill during the peak rush hour on Monday morning, Sept 22, 2014 near Liujiayao Bridge, Third Ring Road South. [Photo/Xinhua]
The idea of imposing a congestion charge on vehicles seems logical: With the government making it more expensive to drive, people who cannot afford to pay the congestion fee give up driving. Moreover, the congestion charge will be another source of revenue for the government.
But the question is: Will the congestion fee reduce the flow of traffic in Beijing?
To begin with, the flow of traffic in and out of Beijing is hardly flexible. Even if the Beijing Municipal Commission of Transport collects a congestion fee that's high enough to make driving a less-favored choice, the majority of people from outside urban Beijing will still commute to and from the central part of the city. So we expect them to choose public transport, which unfortunately is already overburdened. Beijing has the longest subway line in the world-527 kilometers by 2014-but the subway stations are not commuter-friendly. And since the subway is inconvenient for many people, they might still choose to drive even if that means paying a relatively high congestion fee.
If the authorities really want to encourage people to use public transport, they have to reduce fares. But they did just the opposite-raising subway and bus fares one year ago-despite widespread opposition. Subway fares-from 3 yuan to 10 yuan-cost as much as a simple breakfast and thus make commuting by metro less attractive for many people.
In other words, the congestion charge will not ease Beijing's traffic woes.
The author is a professor of political studies at Renmin University of China.