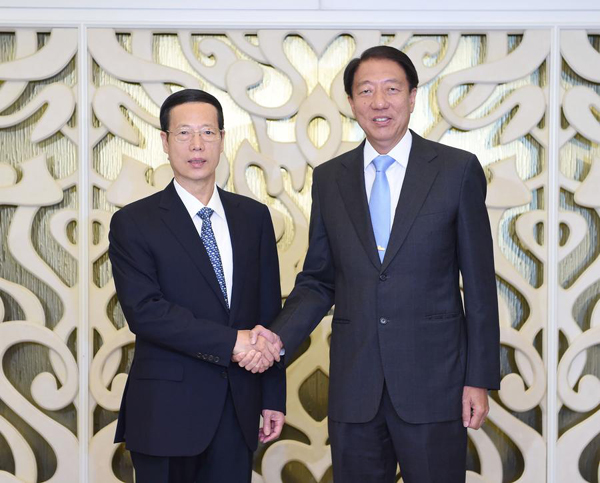 Chinese Vice Premier Zhang Gaoli (L) meets with Singaporean Deputy Prime Minister Teo Chee Hean in Singapore, Oct 12, 2015. [Photo/Xinhua]
President Xi Jinping's visit to Singapore comes at a time when far-reaching developments are taking place in the Asia-Pacific region. One of the most significant developments is the slowdown in the Chinese economy.
With China's GDP growth now below 7 percent and with growth projections remaining in the range of 6 to 7 percent for the next few years, the Asia-Pacific is adjusting to a slowing Chinese economy.

For several years, Southeast Asia and other parts of the Asia-Pacific have relied on China's rapid growth for their own economic expansion. Singapore is a particularly important example in this respect.
After Shanghai, Singapore has the second-busiest port in the world.

It occupies a strategically important position on the maritime route between China and Europe, as also between China and Australia and New Zealand.

It is the most important port in Southeast Asia, too. China's rapid economic growth and trade and investment links with Europe, Oceania and Southeast Asia had reflected positively on Singapore's economy by making it one of the focal points on China's maritime trade routes.
Apart from shipping, Singapore is also one of the busiest financial centers in the region.

Over time, it has emerged as a major center of intermediating banking transactions between Chinese companies and businesses across the world.

The presence of all major global banks and financial institutions in Singapore, and its position as a center of transactions in major global currencies have made it a very important financial intermediary for Chinese businesses.
Growth in volumes both of shipping and financial intermediation transactions has been reducing because of China's economic slowdown.

Singapore is conscious of the long-term effects of China's lower growth and would be keen on identifying new sources of economic growth.