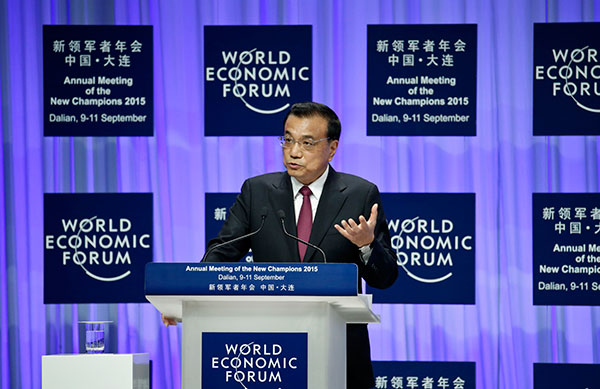 Premier Li Keqiang delivers a speech at the opening ceremony of 2015 Summer Davos forum in Dalian, Liaoning province, on Sept 10, 2015. [Feng Yongbin/ China Daily] 
Many outside China believe the country's economic slowdown is to blame for the recent drastic fluctuations in the global stock, foreign currency and commodity markets. They also think that the prospects of the world's second-largest economy are gloomy.
But the fact is, the increasing downward pressure on China's economy is a result of the slow growth in domestic demand, which, in turn, is a result of the country's structural adjustment and weakening external demands. Besides, the outflow of capital from emerging economies and depreciation of their currencies owing to expectations of an interest rate hike in the United States have also added to the global financial turbulence.
Because of the structural adjustment, China's economic growth (about 7 percent) is expected to be slower than the past decades. The change in China's demographics - such as declining working-age population, decreasing domestic savings ratio, and weakening capital accumulation and exports - have slowed down the national economy. But in 2014, China's GDP increased to $10.4 trillion, up $800 billion from 2013.
Global experiences tell us that the marginal growth of an economy as large as China's will decline to some extent after a certain period. In this sense, China's slower growth conforms to the law of economic development. Not only the Chinese people, enterprises and governments at all levels have to live with this trend, but also the international community has to understand and adapt itself to this change, because China's economy cannot maintain fast-paced growth forever.
However, a stable employment rate, moderate rise in the consumer price index and a growth rate higher than the other major economies of the world mean China remains an important engine of the world economy.