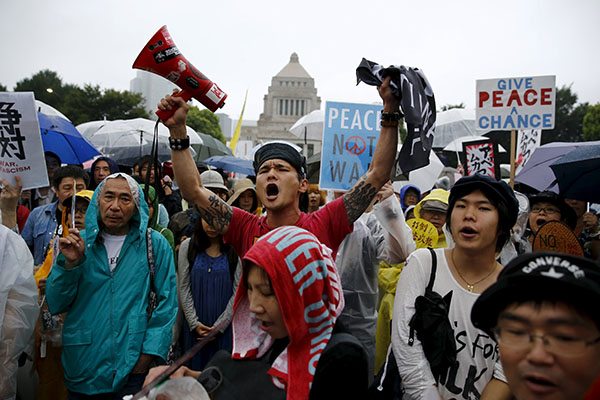 People hold placards and shout slogans as they protest against Japan's Prime Minister Shinzo Abe's security bill outside the parliament in Tokyo August 30, 2015. [Photo/Agencies]
As people looked for such words as "aggression", "apology", "remorse" and "colonial rule" in Japanese Prime Minister Shinzo Abe's Aug 14 statement, Michio Hamaji was more concerned about how it ended.
The Japanese businessman-turned activist said the "proactive contribution to peace" Abe spoke of when concluding his speech is worrying as it shows where the prime minister intends to move his country to in the future.
It is a phrase Abe has been seeking to sell abroad since he took office for the second time in 2012.
Speaking at the Hudson Institute in Washington D.C. in September 2013, Abe told his American audience that Japan is resolved to be a "proactive contributor to peace". He reiterated this when speaking to the US Congress in April.
Hamaji is worried as he sees Abe's "proactive contribution to peace" as the collective self-defense the Japanese prime minster wants his country to exercise.
Hamaji criticized Abe for borrowing and perverting the idea of "positive peace" from Johan Galtung, the Norwegian sociologist and father of peace studies.
Galtung distinguishes between two types of peace: Negative peace, which is simply the condition under which there is an absence of violence, including war; and positive peace, which, while requiring the absence of direct violence, involves identifying and preventing the root causes of violence in order to end violence and the unjust policies or practices that fuel it.
It is the "integration of human society," according to Galtung.