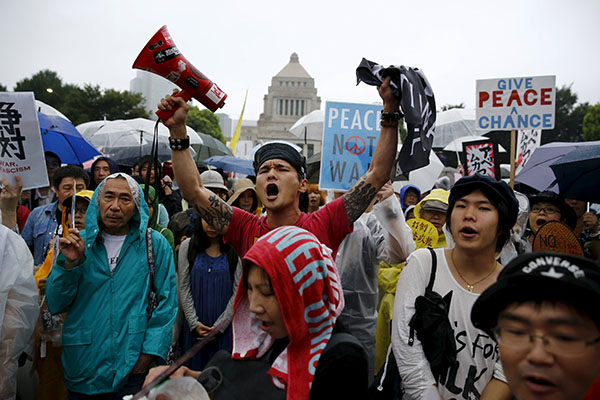 People hold placards and shout slogans as they protest against Japan's Prime Minister Shinzo Abe's security bill outside the parliament in Tokyo August 30, 2015. [Photo/Agencies]
More than 100,000 people took to the streets in Tokyo on Aug 30 in protest against the security bill, backed by the Abe-administration, which would allow Japanese troops to be deployed for the first time since World War II. This protest marked the largest scale anti-government rally since the massive protests against the US-Japan Security Treaty erupted in 1960.
Unlike the previous anti-security allies during the last few months, the past weekend's nation-wide protest has made its message clear by calling on Prime Minister Shinzo Abe to quit. Political heavyweight Ichiro Ozawa, in a rare public appearance, participated in the rally and said passionately, " I seldom appear in public, but now is a critical moment to stand up. We must unite to defeat the Abe administration."
Despite such boiling nationwide rallies, Abe stayed at ease in the prime minister's residence. He is fully aware that no matter how strong public opinion is, no one can oust him if he does not resign. Because the Congress is controlled by his ruling Liberal Democratic Party in coalition with the New Komeito Party, as long as there is no rebellion within the ruling party, the protests, though the largest of its kind, will not shake him from his position of prime minister.
Theoretically it makes sense. But with such fierce public opposition, Abe would be portrayed as a "political dictator" if he insisted on forcibly passing the security bill. His Cabinet's approval rating, therefore, risks the possibility of dropping below 30 percent to 20 percent, a dangerous zone that may cause his regime's collapse. Such a low approval rating will undoubtedly bring Abe's government many difficulties, and the possibility of the New Komeito party's split from the ruling coalition halfway should not be ruled out. Under such circumstances, Abe can have no other option but to resign.
Therefore, the anti-security bill rallies that have swept across the country will become the most direct cause for Abe to step down.
Also, more than a million people's protests reflect a new political phenomenon in Japanese society. The community as a whole opposes the security bills with great fervor, with Abe along with right-wing politicians being the exceptions. It is heartening to find moderate parties, especially, take the road of the left-wing coalition, for concern of the future of its country and people. '
Animation master Hayao Miyazaki, famous director Yoji Yamada, well known actress Sayuri Yoshinaga, and dozens of legal experts and constitutional scholars, became the vanguard and mainstay in the movement. They have only one wish: Japan cannot go back on the path of war, and the constitution of Japan's peaceful development definitely cannot be changed.
The above is an opinion article by Xu Jingbo, bureau chief of Japan's Asia News Agency in Tokyo, on Sina blog.