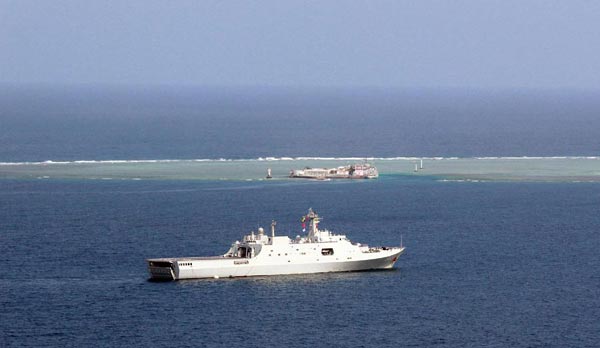 China firmly upholds her sovereignty and maritime rights and interests in the South China Sea. [Photo/Xinhua]
The recent interference of the United States and Japan in the South China Sea disputes has heightened tensions in the region. Worried about their national security, countries like the Philippines and Vietnam are seeking outside help to get the upper hand in their maritime territorial disputes with China. Even Malaysia, which until now approached the South China Sea disputes with caution, has strongly responded to a Chinese ship intruding into its "exclusive economic zone".
But the truth is that, no party to the disputes will be able to get any benefit from outside interference. Instead, outside interference will only complicate matters further by creating more uncertainties, which in turn could push the disputing countries toward a diplomatic dead end, because rather than compromising its sovereignty over the Nansha Islands, China could intensify the measures to protect it.
As the Year of China-ASEAN Cooperation, 2015 is also set to witness the official launch of the ASEAN Economic Community in the backdrop of Beijing making greater efforts to push for its "Belt and Road Initiative".
The rising tensions in the South China Sea could deal a blow to the more than two-decade-long efforts to deepen cooperation and coordination in the region. Worse, outside powers like the US and Japan could use the situation for their own strategic benefits.
Therefore, China and the Association of Southeast Asian Nations should accord priority to regional stability and make the disputed waters a platform for regional cooperation instead of confrontation. To begin with, the two sides have to acknowledge they are natural neighbors and only mutual respect and peaceful coexistence can be of benefit to all.
Being a major regional power, China has the responsibility to play a vital role in deepening economic and security-oriented cooperation with ASEAN member states. Its "dual track" approach to resolve the South China Sea disputes - which focuses on negotiations and consultations between the actual disputing parties, and makes efforts for China and ASEAN to work together to maintain peace and stability - should be acceptable to all ASEAN member states.
ASEAN, on its part, needs to use its influence in the region to increase economic exchanges with China, and more importantly, stay committed to regional peace regardless of some of its members' selfish interests.
In other words, both sides ought to accord equal value to economic and security-related cooperation, and use the ASEAN-Plus-China (10+1) mechanism to shelve the differences and deal with non-traditional security threats. In this regard, the 21st Century Maritime Silk Road, apart from enhancing cross-border connectivity, can also boost trade and people-to-people exchanges, as well as regional peace in the long run.
The author is a researcher in Southeast Asian studies with the China Institute of Contemporary International Relations.