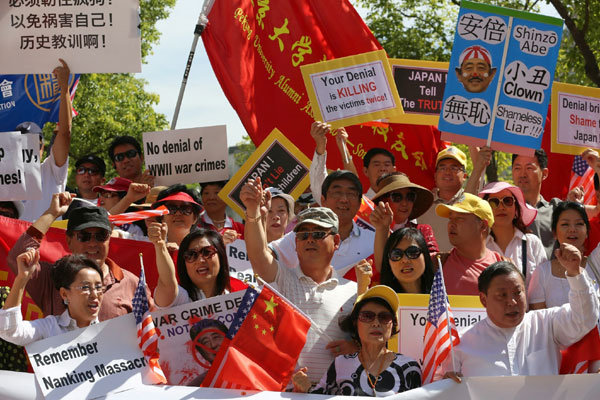 Hundreds of protesters rally on May 1 near the Millennium Biltmore Hotel in Los Angeles where Japanese Prime Minister Shinzo Abe was scheduled to attend a luncheon. They demanded that Abe apologize for Japan's wartime wrongdoings. Provided to China Daily.
In an open letter, 187 prominent Asia scholars from 10 countries have urged Japanese Prime Minister Shinzo Abe to "act boldly" in addressing his country's colonial rule and aggression before and during World War II. They have told Abe that the nationalists-led efforts to revise Japan's war history are preventing East Asia from properly celebrating 70th years of peace and prosperity after the end of WWII.
The scholars include John Dower of the Massachusetts Institute of Technology, Ezra Vogel and Akira Iriye of Harvard University, Ronald Dore of the London School of Economics and Herbert Bix of New York's Binghamton University.
Not surprisingly, the academics' letter has angered Japanese nationalists and rightists. Yoshihisa Komori, a veteran journalist associated with Sankei Shimbun, called the 187 academics people of "arrogance and prejudice" in his blog on Yahoo's Japanese website on Monday. He has asked, what the US would do if Japanese scholars wrote President Barack Obama and told him to reflect on all the wrongs his country has committed in the past.
Komori is known for denying the Nanjing Massacre and claiming that the wartime Japanese government and army was not directly responsible for "comfort women" - a euphemism for hundreds of thousands of women and girls forced into sexual slavery by the Imperial Japanese Army before and during WWII.
Conscientious people are aware of and appalled by the rising revisionism in Japan. Revisionists have criticized scholars and previous Japanese governments' for apologizing for "comfort women" and other wartime Japanese atrocities.
In 2012, right-wing Japanese lawmakers and activists collected more than 25,000 signatures for a petition and posted it on the White House website asking the Obama administration to force the state of New Jersey to take down a monument dedicated to the memory of "comfort women" and even offered cherry trees and other goodies. New Jersey officials rejected their plea.
The petition even asked the US not to support any international criticism (which they called "harassment") of Japan for the "comfort women" issue. "False accusations regarding the South Korean comfort women issue have disgraced the people of Japan for decades," it read.
In March, a group of Japanese historians urged US publisher McGraw-Hill Education Inc. to change a passage in a US history textbook about women trafficked to Japan's military brothels, following a similar complaint by the Japanese Foreign Ministry.
And last month, Abe gave the strongest signal that he will not repeat the apologies given by past Japanese leaders in the statement he is expected to deliver on Aug 15 to mark the end of WWII on the Eastern front. "I uphold the basic thinking behind past war apologies, which means there isn't a need to reiterate them," Abe said on a TV show in response to a question on whether he would include terms such as "aggression" or "colonial rule" in his statement.
Japan's revisionists claim the invasion of China and other Asian countries, and the attack on Pearl Harbor were not acts of aggression but defensive maneuvers against Western imperialism, and hence deny the Japanese atrocities.
Countries like Germany and Austria have prevented a resurgence of right-wing extremism by making Holocaust denial punishable by law. Japan's "freedom of speech", however, allows revisionists to blur the distinct line between the victims and the aggressors.
The UN Committee on the Elimination of Racial Discrimination urged Japan in August to "conclude investigations on violations of the rights of comfort women by the Japanese military" and "pursue a comprehensive, impartial and lasting resolution" of the issue through "sincere apology and the provision of adequate reparation".
The committee also asked the Japanese government to "condemn any attempts at defamation or denial" of the issue. Almost certainly, Japan's revisionists must have rushed off their feet to do otherwise. But the 187 academics' letter should make them realize revisionism doesn't sell.
The author is China Daily's Tokyo bureau chief. caihong@chinadaily.com.cn