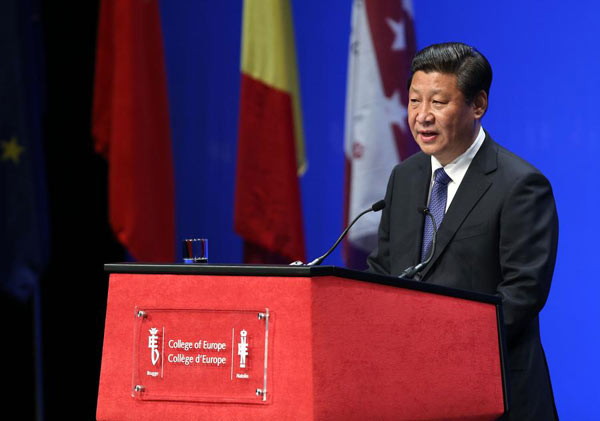 President Xi Jinping delivers a speech at the College of Europe in the Belgian city of Bruges. [Photo/Xinhua]
On 6 May 1975, forty years ago, China and the European Economic Community (EEC) officially established diplomatic relations. It was a decision taken with exceptional foresight on both sides. The world was beginning to move towards a more multipolar order: China and Europe wanted to lead that transformation.
Great changes have taken place since then. China's opening up and reform policy has brought about remarkable achievements over the past 40 years. The EEC has evolved into the European Union. We have supported each other's development and worked together to deal with global challenges such as the financial crises in 2008.
Our mutually beneficial cooperation, notably our trade and economic cooperation, has made an important contribution to not only China's development and European integration, but the world's peace and development as well.
Confucius said that: "At forty, I had no more doubts." As the EU-China relationship enters its fortieth year, we are now working together to find effective solutions to issues of the highest priority for world peace and security.
We have both been personally involved in the negotiations on the Iranian nuclear issue, encouraged all parties to reach a preliminary agreement on the key parameters of a Joint Comprehensive Plan of Action. This aims to ensure the security of the region, and sets an important precedent for promoting non-proliferation in other parts of the world.
We both believe that a positive outcome would have been impossible without the commitment of all parties, and we are now coordinating closely to reach an comprehensive agreement.
Through our joint efforts, bilaterally and with other international partners, we have managed to curb piracy attacks drastically and to secure safety of navigation in Somalia and the Gulf of Aden. The EU ATALANTA mission and Chinese PLA-N also conducted their first two naval exercises off the Horn of Africa last year.
While this cooperation will continue, we need to look at ways to address the root causes of piracy on land. We also intend to expand our focus to promoting peace and security in Africa, by supporting the capacity of the African Union and working together in places such as Mali.
Our common successes embolden us to keep on the same track. Together we can address other longstanding peace and security challenges such as the Middle East Peace Process, where we are both committed to a comprehensive, two-state solution.
Both China and the EU are convinced that the conflict in Ukraine can only be solved by diplomatic means and through full respect for international law, especially respect for Ukraine's sovereignty, territorial integrity and independence. We call on all sides to fully assume their responsibility and to implement their commitments under the Minsk agreements.