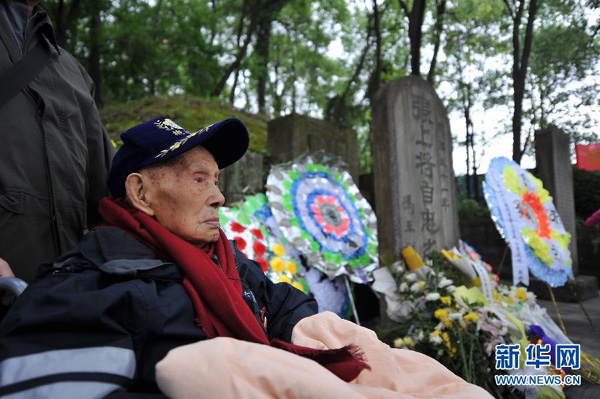 Cao Tingming, 102, visits the tomb of Zhang Zizhong, a general killed in the War of Resistance against Japanese Aggressiona, to mourn the hero in a cemetery of revolutionary martyrs in Chongqing, April 5, 2015. [Photo/Xinhua]
An online debate on war heroes has divided Chinese netizens. A recent post on Sina Weibo, a Twitter-like social network tool, mocks Qiu Shaoyun, a Chinese soldier who died in a fire during the War to Resist US Aggression and Aid Korea (1950-1953), as "roast meat", with some even saying the story about Huang Jiguang taking a hail of bullets in the process of protecting his comrades is "false".
The spread of such slander on the Internet show some people have little respect for the dead; worse, they defame heroes who sacrificed their lives for the country.
The tradition of respecting war heroes has a spiritual basis; it is equally important for a rising China and its people. Wars may not be something to be proud of, but that doesn't mean the efforts and sacrifices of war heroes in the service of the country are any less important.
A country can make new heroes only if it pays tribute to the ones in the past. The Du Fengrui air force brigade, named after a pilot who sacrificed in 1958, has been holding oath-taking ceremonies before his statue for the past four decades or more.
Inspired by Du, a number of the brigade's members have become outstanding role models for others, such as Nie Haisheng, crew commander of the landmark Shenzhou X manned space mission in 2013, which until then was longest of its kind in China.
In a country full of heroes, showing unconditional respect to them is the least one can do. China has been doing exactly that as governments at all levels are making more efforts to commemorate martyrs — from collecting their remains and renovating their tombs to raising their pensions. Also, war heroes' children taking the college entrance exam have lower criteria — lower than usual scores, for example — to get into universities.
China is not the only country that honors its wartime heroes. Many streets in Russia are named after its World War II heroes, and many newly weds still choose to lay a wreath on martyrs' tombs. Without the sacrifice of more than 20 million people, the Soviet Union would not have won the Great Patriotic War against Nazi Germany and its allies.
The United States, on its part, has two servicemen-related holidays — Memorial Day at the end of May to honor the Americans who lost their lives in wars and Veterans Day on Nov 11. From the US federal government to local communities, many organize commemorative events on these two holidays.
In short, war heroes will keep inspiring people from all walks of life and their memory should never be insulted.
The author is a professor at the National Defense University of the People's Liberation Army.