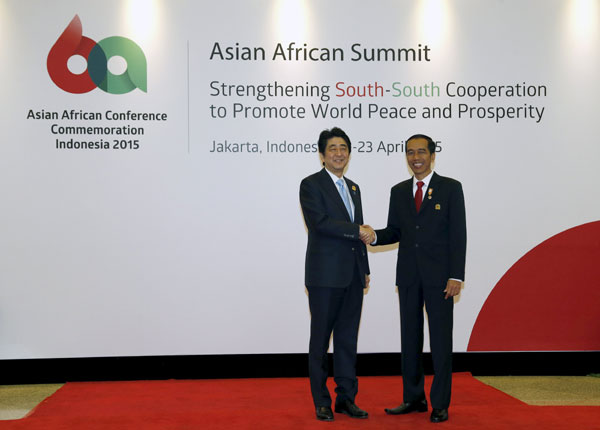 Indonesia's President Joko Widodo (R) greets Japan's Prime Minister Shinzo Abe during the arrival for the opening ceremony of the Asian African Conference in Jakarta April 22, 2015.[Photo/Agencies]
On Wednesday, Japanese Prime Minister Shinzo Abe expressed "deep remorse" for Japan's World War II aggression at the Asian-African Summit, but stopped short of apologies.
Historical problems are the central issues in the international relations of East Asia. A core issue in all the historical problems in East Asia revolves around Japan's attitude, reflection, and understanding regarding its own actions during World War II.
Over the past 70 years, many Japanese political leaders have expressed their regrets about Japan's behavior during the war, and even apologized to Japan's neighbors, and admitted to its invasion and violence in the region.
However, both Chinese and Koreans do not consider Japan's apology to be sincere. Many still feel anger about the perceived lack of Japanese indignity and sorrow when it comes to the past. During the seven decades, the Japanese remarks and behaviors have frequently fueled strong protests in China and South Korea.
The lack of a sincere Japanese apology is the central barrier for real normalization and reconciliation. This is also the main reason why Abe's two speeches in Indonesia and the US, and the forthcoming speech in August for the 70th anniversary of the end of WWII have been drawing a lot of attention from the international community, especially Japan's neighbors China and South Korea.
Compared with the reconciliation process in Europe after WWII, such as between Germany and France, and Germany and Poland, reconciliation in East Asia has been particularly challenging and difficult.
For example, in the 1980s the China-Japan relationship was very close and very friendly, and was even being referred to as a "honeymoon" between the two countries. But unfortunately in recent years the historic issues have resurfaced to the point of playing an even more negative role compared to any time in the past. In 2012, Japan's nationalization of the Diaoyu Islands generated massive protests and a strong tide of nationalism in China.
Since 1945 Japanese society has experienced a major transformation and has become a peace loving country. Japan's economic growth has made it possible for Tokyo to contribute greatly to international development, and Japan has made very positive contributions to international society, especially in the realm of economic development, including assistance with China's reform and opening up in the 1980s.