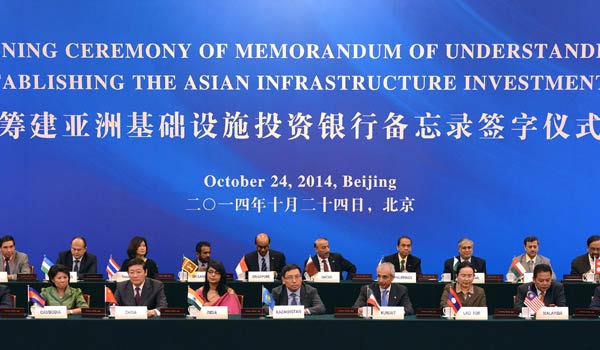 The signing ceremony of memorandum of understanding on establishing the Asian Infrastructure Investment Bank (AIIB) is held in Beijing, Oct 24 2014. [Photo/Xinhua]
Influential Western economic commentators have supported China's move to establish the Asian Infrastructure Investment Bank and said US President Barack Obama made a big mistake by pressuring US allies to shun the bank.
What the US has done by doubting the integrity of the AIIB sounds like the pot calling the kettle black, because it is the lack of fair governance in the International Monetary Fund and the World Bank that prompted China to initiate the formation of the AIIB and the BRICS countries (Brazil, Russia, India, China and South Africa) to establish the New Development Bank, formerly referred to as the BRICS Development Bank.
For decades, developing countries have been complaining about the developed countries maintaining their grip on the voting power in the Bretton Woods institutions, because the quotas agreed upon 70 years ago do not reflect the vastly increased shares of the emerging economies in theworld economy. Even the mild reform agreed by all that the quotas would be changed slightly in favor of some developing countries cannot be implemented because of US Congress' opposition.
Moreover, the unjustifiable "understanding" that the heads of the World Bank and the IMF would be an American and a European remains in place despite promises of change.
In response, BRICS set up the NDB, which will supplement or compete with the World Bank, while China proposed the AIIB, which will supplement the Asian Development Bank, which too has a lopsided governance system.
The new banks will focus on financing infrastructure projects, since developing countries have ambitious infrastructure programs and there is gross underfunding.
Critics speculate that the new banks will finance projects that the World Bank or the ADB would reject for not meeting their environmental and social standards. But that is attacking something that hasn't yet happened. True, it would be terrible if the new banks build a portfolio of "bad projects" that would damage the environment further, or displace millions of people without recognizing their rights.