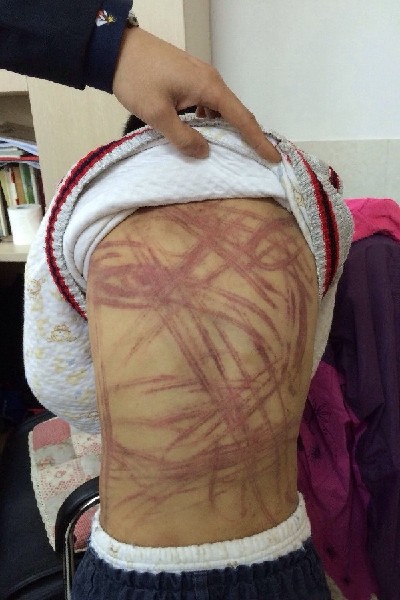 The young boy shows off the scars on his back from alleged abuse by his adoptive parents. [Photo/IC]
A series of photographs of a little boy physically abused by his adoptive mother in Nanjing, Jiangsu province, has gone viral on Weibo, China's equivalent of Twitter. Although Nanjing police quickly responded to the case and detained the 9-year-old's adoptive mother, the case has raised public concern over the protection of minors.
According to a Beijing Youth Legal Assistant and Research Center report, biological parents were responsible for 75 percent of the 697 cases of domestic violence against minors that the media exposed between 2008 and 2013, with adoptive parents being responsible for 10 percent. The report also says many social organizations such as residents' committees failed to fulfill their responsibility of protecting children by not reporting such cases to police. And though non-violent guardians or other family members reported 32 percent of such cases to police, they did so only after the children had suffered severe harm.
Many parents in China still beat up their children because they don't see it as a violation of law. According to traditional Chinese belief, the family is a hierarchical organization in which parents and children don't have equal status. Parents have much more rights over their children than the other way round. For centuries, Chinese society has treated children as the "property" of their parents, not independent individuals. As such, children dare not defy their parents. Given these facts, people consider parents thrashing their children as a private, familial, affair.
Besides, lack of legal knowledge makes it difficult for Chinese people, including parents, to distinguish between child abuse and parenting. Some parents still believe the tough parenting methods of "tiger moms" or "wolf dads", which might involve physical punishment, can help turn their wards into "winners".
The frequent exposure of child abuse cases by the media and the public's growing concern, however, show that changes are taking place in society, albeit gradually. China's economic and social development, and the promotion of the rule of law have made an increasing number of people realize the importance of child protection. In the Nanjing case, it was a schoolteacher who first realized the boy had been physically abused and appealed to the public for legal help.
In November 2014, the government issued the draft of the first anti-domestic violence law to solicit public opinions, which is expected to become another effective legal weapon to protect children. Some experts have suggested that we follow some foreign countries in implementing "ant-child abuse" laws so that parents who physically abuse their children can be punished.
True, legal punishment can deter potential offenders, but preventing child abuse is more important considering the long-term harm children suffer because of physical abuse. Hence, a sound and effective social supervision and intervention mechanism is crucial for children's healthy growth.
In this aspect, the Hong Kong Special Administrative Region can be a good example for the Chinese mainland. The government, social organizations and the public all play a role in preventing child abuse in Hong Kong. The first professional child abuse prevention social organization, Against Child Abuse, was established in the SAR in 1979. It was followed by the establishment of the Special Children Protection Service Unit by the Hong Kong Social Welfare Department in 1983.
More importantly, the HK Social Welfare Department issued the Procedural Guide for Handling Child Abuse Cases in 2007, giving details of child abuse crimes, how to detect and evaluate child abuse cases, and the legal procedure to deal with them. It is a clear and effective guide for the public to prevent child abuse and help protect children, and help the mainland to formulate its own rules.
The author is a writer with China Daily. wangyiqing@chinadaily.com.cn